If you live in Russia and read this, be very very careful as there is now a 15-year prison sentence for anyone who says anything bad about Russian forces. Press Ctrl+Shift+Caps Lock+N before watching and close afterwards to delete what you have been watching. You could also use the Ccleaner programme which is free. Be careful about using VPNs as your government is now trying to prevent people using them.
Approx number of Russians killed in the war up to 16th November 2023 = 315620, last 24 hours = 1330 - Ukrainian figures. According to Russian Ministry of Defence, total Russian losses = 1351 in total (no change for several months!)
Ukraine - according to Ukrainian government, between 10,000 and 15,000 soldiers killed. This is certainly an underestimate. According to Top US general Mark Milley in December, 100,000 military officers & 20,000 civilians killed or injured since war began.
The United Nations high commissioner for human rights (OHCHR) has released a count of the number of civilian casualties in Russia's war on Ukraine so far, saying that 6,884 people are known to have died in Ukraine, including 429 children. This is almost certainly an underestimate
As you can see from the figures above, Putin has sacrificed the lives of over a quarter of a million lives of Russian soldiers, not to mention those who have been wounded, as well as countless numbers of Ukrainian citizens, killed or wounded all in his illegal and immoral attempt to recreate the Soviet Union. Why aren't the Russian people rebelling? Because they have been brainwashed by State propaganda, or is it something else. Whatever it is, all Russians are complicit in this.
July 24th
Article on Putin
29th June 2023
Russian attack on a restaurant in Kramatorsk, Ukraine. Read about it here. "We do not civilian infrastructure" - Dimitry Peskov, Putin's spokesman.
2nd March 2023
A 12-year-old Russian girl has been sent to an orphanage and her father beaten up and arrested by authorities after she drew an anti-war picture in an art class, according to reports.
Alexei Moskalev, a single father from the eastern Tula region, was charged with discrediting the military in December after his daughter, Masha, protested against the war at school and online, the independent Russian media Meduza reported on Tuesday.
Masha's teacher had instructed her class to draw pictures in support of Russia's troops in Ukraine, Meduza reported.
Instead, Masha drew an image of a Russian flag with the words "no to war" on it and a Ukrainian flag emblazoned with the words "glory to Ukraine". The teacher informed the school's director who in turn called the police, Moskalev said.
Moskalev now faces up to three years in prison if his case goes to court "and the girl is ­­­sent to an orphanage", his lawyer told the independent Russian human rights media project OVO-Info.
from The Guardian newspaper
Kherson torture centres planned by Russian state
The Fate of Mariupol in words and pictures
September 28th 2022
An idea for the Russian authorities - you should organise a referendum asking people if they would be willing to go and fight in Ukraine. It would be binding, of course.
23rd February 2023
Investigators just confirmed that thousands of children have been taken from Ukraine by Russia and put to re-education camps. And many families have almost no way to get them back.
Russian officials have made clear that their goal is to replace any childhood attachment to Ukraine with a love for Russia. One of the children identified was only 4 months old.
Mothers are often bearing the worst burden here -- Russian law insists only a mother or father can retrieve a child who is being held at a camp or foster home. Fathers of fighting age could be detained and possibly tortured. So the burden lies solely with mothers. Without international action, they face impossible odds.
We urgently need a massive, global call to shine a spotlight on this horror -- we'll use this attention to push the US, UK, EU and other powerful countries to sanction those responsible, to hold anyone committing such horrific crimes accountable, and to help negotiate the safe return of Ukrainian children.
Oleksandra Matviichuk is a Ukrainian human rights lawyer and the head of Ukraine's Center for Civil Liberties, which was awarded the 2022 Nobel Peace Prize.
Sign this petition to bring this to an end.
In the folk song below, substitute "Russian Forces" for "Muslims"
---
Some music I wrote to go with these topics. They sound best with headphones:
Slava Ukraini
https://youtu.be/qmH8W8YWWPA

Cannon fodder
https://youtu.be/DKlwHQ1b5RY

Pravda? The truth? What Russians have been told about the invasion of Ukraine
https://youtu.be/Kg6Upy1jwu4

Bucha - in memory of those who lost their lives in Bucha
https://youtu.be/9X3AsEYsu4E
Santa Putin wishes everyone a Merry Christmas and a Happy and Peaceful New Year
https://youtu.be/u0tF0ovmC4w
If you live in Russia, you should know that you have been told lies about why Russian forces are in the Ukraine and what is happening there. The truth of the matter is that Putin has invaded the country and is seeking to replace the President and parliament with people loyal to him and his gang of cronies. They want to get rid of democracy there and then attack other former parts of the USSR and members of the former Warsaw Pact Countries to bring them under Russian control.

The Russian forces have fired rockets at residential areas, hospitals including one for children with cancer, shopping malls, apartments, houses, schools and kindergartens, power stations and a dam, amongst many other things - in spite of the fact that the Russian government says that civilian areas are not targetted. That is lies, like everything else the murderous government says. Do not believe any of their propaganda on the media. The Russian army has also tortured and executed hundreds, perhaps thousands of civilians at Bucha, Izium and elsewhere. This is pure evil and why people all over the world now hate Russia and why sanctions have been imposed.
You could also check out these links:
www.theguardian.com/uk
skynews on youtube
dw news on youtube
France24 English on youtube
How is it that a country that contributed so much to the world in music, Tchaikovsky, Rachmaninov, Borodin, Mussorsky, Rimsky-Korsakov, Stravinsky; in literature, Tolstoy, Chekov, Pushkin, Dostoevsky, in art, Radoff, Repin, Serov; in ballet, the Bolshoi, the Kirov, the Marlinsky, Diagilev, Anna Pavlova, etc. has now become known as the country which sets up torture chambers in other countries, which destroys schools,hospitals, peoples' houses and apartments and is trying to totally destroy their infrastructure (electricity and water supplies)? This is not (just) war, it is the degradation of other countries and Russia itself.
If you are a Russian who is against this barbaric pointless war in Ukraine and maybe even have been arrested or imprisoned, we salute you for your courage.
If you are a Russian who support your government in this attrocity, and accept everything your mass media tells you, may I ask you a few questions...
Do you enjoy living in a police state, one that is becoming more repressive hour by hour? Do you think that everything that is done in your name by Putin and your government is acceptable, you are not a loyal citizen - you are naive and deluded. Imagine if YOUR wife/husband/or other member of your family had been killed or injured, possibly permanently disabled by a Russian soldier, how would you feel?
How would you feel if YOUR house was destroyed by artillery or a rocket fired by a Russian soldier and you were now homeless?
How would you feel if your town or city was surrounded by troops who were cutting off supplies of food, water, electricity and medical aid to you?
For God's sake, wake up! You are complicit in these war crimes. You will live to regret that. Russia needs a new revolution to overthrow the current leaders.
October 27th 2021
Dear Paul -- Last week four students and a teacher were killed on their way to school in the town of Ariha in Idlib. Over 180 teachers from northwest Syria have signed this letter to world leaders, demanding a stop to the ongoing attacks on children. Please read their letter and share it with everyone -- it could make all the difference for Syria's teachers and children.
To world leaders:
We are the teachers of students in northwest Syria who are deliberately targeted in their homes, classrooms and as they walk to school. We go to work afraid of another attack, and of another traumatizing day, which we know will affect our pupils for the rest of their lives.
Our letter could not be more urgent. Early Wednesday morning, four students and our colleague, Arabic teacher Qamar Hafez were tragically killed on their way to school when Syrian government forces attacked the town of Ariha in south Idlib with artillery shells.
At least 55 children have been killed in the past four months by the Syrian and Russian governments, nearly a child every other day, and one million children in Idlib are terrified they might be next or they might lose their best friend at any moment.
Like teachers everywhere, we are deeply committed to the children we teach, and we do all we can to try to protect them but it is not enough. We need world leaders to stop the attacks, and ensure that children are safe and able to continue their education.
We're trained to evacuate the classroom when the bombs fall. We run regular drills with the children as we only have a few minutes when there's a warning that a warplane is coming closer, so we have to move fast. The training itself can be confusing for young children who don't understand that we're practicing.
Whenever a warplane is nearby, we ask the children to remain calm and rush them to a shelter, usually a small room under the stairs, where we hide for hours until it's safe to come out. Those are the hardest moments. We respond to calls and texts from parents, and we do everything we can to help when the children panic and ask to go home.
Our schools have already been targeted eight times in 2021 and we're worried that fewer and fewer children will return to school each school year. The intense fear has caused many students to become isolated and depressed. Already half the school-aged children in northwest Syria are out of school due to bombing and displacement. These children desperately need the routine and support systems that come with school.
Schools are supposed to be a safe space for children to learn and grow, not a target for warplanes and missiles. As teachers we will keep going to work even if it means risking our lives under bombs, but we need the international community to take action to end the attacks and hold Russia and the Syrian government accountable for such horrible crimes, so that our classrooms can be full with students again.
Signed, 182 teachers across northwest Syria
July 17th
It says on my CV page that I grew up in Cornwall. This is no longer something for me to be proud about since all the Conservative MPs in Cornwall recently voted to cut the aid budget to poor countries from 0.7% to 0.5% - shame on them and the rest of the members of this rotten government! Mind you, the same applies to East Sussex where I currently live. Shame on these Conservative MPs too!! This reveals a flaw in democracy. People vote for their own self-interest and not for the good of humanity, especially for the poorest people in the world. It was Britain which exploited the countries in which some of these people live in colonial times and in the unfavourable terms of trade since then. I have very little pride in my own country, and this has diminished even more so since Brexit and the installation of the nastiest bunch of politicians I can remember in Government.
28th May 2021
An update from the White Helmets
More than a year has passed since a ceasefire was agreed in Idlib, which gave millions of people a much-needed respite after surviving years of brutal bombardment and displacement and the worst humanitarian crisis we've seen in ten years of conflict.
The Syrian regime and Russia have repeatedly breached the ceasefire. So far in 2021, our White Helmets frontline responders rushed to the scene of more than 470 direct attacks. We were able to save more than 147 lives, including 26 children, and recover the bodies of 56 people who were killed in these attacks.
Taking advantage of the relative calm, our White Helmets teams have been working around the clock to help the population in northwest Syria get on with their lives. A million people were displaced from their homes when the area came under brutal aerial attacks in 2020. Now every day we are helping displaced families to return home, although many find their villages completely destroyed.
Our volunteers are focusing on clearing the rubble in these destroyed towns and rehabilitating schools and public spaces. Specialist teams have removed thousands of pieces of unexploded ordnance, including clearing bombs from agricultural fields, which is especially critical to allow farmers to grow their crops.
Food supplies are at constant risk as Russia is again threatening to use its veto power to block cross-border UN aid deliveries to the area, and much of the area's fertile agricultural land around the towns of Maarat al-Numan and Saraqeb was also lost to Syrian regime forces last year.
To further protect crops, we have stationed dedicated firefighting teams in key locations and have already put out 89 seasonal forest fires this year, alongside over 600 general fires in towns and camps.
Restoring life and hope for a population that has gone through hell for nearly ten years is at the heart of our work. In particular Syria's children, who haven't known anything but the conflict. Our volunteers have been busy building dozens of parks and playgrounds.
To help families in camps deal with their trauma, our women teams have provided thousands of hours of psycho-emotional support. And in one of many community initiatives, 990 women recently attended the White Helmets' 'Medic in Every Home' training to learn life-saving first aid.
Since before COVID spread across northwest Syria, we have been doing all we can to protect people from the virus. We have disinfected camps and public spaces 93,000 times and held more than 42,000 sessions to raise awareness. I'm proud that the White Helmets are now assisting the Syria Vaccine Team with 100,000 pieces of PPE that we produced in our factories and ambulance logistics.
Thank you, Paul, for standing with us on the side of life. Your support and solidarity keep our teams going as we confront the failure of politicians and governments to address the catastrophe in Syria.
With gratitude,
Raed al-Saleh
Head of the White Helmets
Please consider making a donation to the White Helmets as they continue to save lives and restore hope to communities.
The Syria Campaign is an independent advocacy group campaigning for a peaceful and democratic future for Syria.
1st April
The military coup in Myamnar (Burma) must be opposed at all levels. Over 520 people have been killed, including 40 children - see https://www.bbc.co.uk/news/world-asia-56600292. And yet the Russian Deputy Defence Minister and representatives from other countries went to their Armed Forces Day. The Burmese military have no shame. The same could be said of the Russian and Chinese delegates to the UN Security Coucil who are preventing any action against them.
March 30th
My mother died on the 12th February and her funeral was on the 22nd March. I have written an account of her life which you can read here. As I stated at the end, I originally wrote a shortened and unfinished version of this for the care home she was in to let the care assistants know more about her and accompanied that with a lot of old photographs. Otherwise, to them, she would just be another old frail lady. This would be a nice idea for other people to emulate, particularly if the person concerned has dementia.
March 28th 2021
The situation in Myanmar is getting worse. The Russian sent the Deputy Defence Minister to the Armed Forces Day which in effect bolsters the murderous military regime in that country and the Chinese and Russian delegates on the Security Council of the UN will not back any action against the military in Myanmar. Shame on them! This is outrageous. See https://www.theguardian.com/world/2021/mar/28/myanmar-military-killing-calls-global-action
March 7th 2021
A good overview of the situation in Syria - click here.
16th February 2021
My mother died on February 12th. She was 104 years and 5 months old!   She probably died from Covid as she had been tested as positive a few weeks previously. But it may be that Covid just pushed her over the edge as all her organs must have been worn out by now. You may think that being that old, it was not much of a shock to us. But having been around for so long, it just seems strange that she is no longer with us. It is a blessed relief for her - she had very bad eyesight and hearing and was suffering from dementia. For the last month she had been isolated in her room as there are residents in her care home sho have got the virus. Ironically, visitors were not allowed to visit her or the other residents for many months in case they brought in the virus, so it must have been a member of staff who was infected and spread the disease around. My mother will be missed by a lot of people, God bless her.
24th September 2020
My wife and I have been shielding since February. Both of us are over 70. I have cardio-vascular disease and my wife has diabetes and atrial fibulation. We are classed as vulnerable people and could very well not recover if we caught the virus. Knowing that I may not be around much longer if I get it, I have been concentrating upon getting rid of a lot of my stuff - thrown away all my paper scores and got rid of my small band charts too, as well as a lot of personal stuff. Will put as much music on youtube as I can so that if anyone downloads any of the scores, it might be a useful guide to them. The recordings are far from perfect, but I hope people will understand why I am putting them on youtube. When I see the statistics of how long people have viewed the videos it fills me with despondency - often it's just a few seconds. A few more videos to go, but I doubt if it is really worth it.Feels strange to know that if I get the virus I could be dead in a week or two. My commiserations to people who have lost friends and relatives in this way.
21st September 2020
Visited my mother in a care-home yesterday. As I did not want to expose myself to public transport yet, I drove there. It took 4 hours, only to find out when I got there that someone on the staff had come down with covid-19 and no visitors were allowed. So had to stand outside her window. She will be 104 in October and has dementia. She did not understand why I could not visit her inside - it must have seemed very strange to see her own son having to stand outside the window and it was distressing her too. We were not even allowed to open the window. So after about 20 minutes I had to get in my car and drive home again. This is the farthest I've driven for some years (8 hours in all). Fortunately it was a nice sunny day. Even so, I have felt zonked all day. With the evenings getting darker and the weather deteriorating now, I dare not try doing another drive like this for some months as my night-time vision is not what it used to be. I just have to face up to the fact that I may never see my mother again.
21st August 2020
Dear Paul,
My name is Ameenah Sawwan and I'm a campaigner from Syria. Seven years ago I lived through a day that has changed me forever.
In the early morning hours of August 21, 2013 bombs filled with chemical weapons were dropped just 20 kilometres from my house. Then as panic filled our town of Muadamiyat al-Sham, it too was attacked with chemical weapons.
I ran to the field hospital where I volunteered as a nurse. I saw people lined up in the street in front of the hospital. They were suffocating. Many looked like they were close to death.
I went inside and started to wash people and take off some of their clothes. I was instructed to put towels soaked with vinegar and lemon under their noses. We did not know what we were doing and whether it was helping at all. All we knew was that something terrible had happened and we were alone, left to deal with hundreds of dying people unable to do anything for them.
I tried to save the life of a 10-month-old baby. I tried to wash him and give him CPR but nothing worked. I wished I would soon wake up from a nightmare but the baby died along with his parents.
That day a total of 1,127 people were killed. People went to sleep the night before and never woke up. My family and I survived, but death continued to rain from the sky. Eight days later my brother, his wife, and their son Ahmad were killed by a mortar shell.
That attack was not the first and it was not the last. The Syrian regime has used chemical weapons against its own people as part of more than 200 documented incidents. The red line that many world leaders talked of has been crossed with impunity.
Seven years on I still cannot understand how the attack was allowed to happen, why there were no consequences and why justice is still to be done.
Those of us who survived live with memories that haunt us daily but also compel us to keep on campaigning. We will not give up. We will tell our stories, preserve our collective memory, and demand justice.
That's why today many of us will be taking to the streets in cities and towns giving out pins and yellow roses and explaining to people around the world what happened in 2013. We want to shed a light on the use of chemical weapons in Syria and renew the fight to hold to account a regime that suffocates children to death as they sleep.
Please add your message of solidarity today using the hashtag #DoNotSuffocateTruth on Facebook and Twitter, and by following and sharing updates from the Ghouta campaign.
With hope,
Ameenah
Donate to The Syria Campaign at www.thesyriacampaign.org Write to: info@thesyriacampaign.org
The Syria Campaign is an independent advocacy group campaigning for a peaceful and democratic future for Syria. Read more about our work here.
Online donations are processed by Voices Project USA and gifts are tax deductible to the full extent allowable under the law. Our Federal Identification Number is 82-3505967.
Follow us on Facebook, Twitter, and Instagram.
17th August 2020
Today, I finished throwing away all my hand-written music scores. All the music is in digial form except for the full scores, but still, putting the scores into the waste-bin is like parting with my past. My wife said to someone on the phone I was just tidying up. But she doesn't and never has understood how much music has meant to me, and still does, even though I have now retired from it. Silly why I should feel upset about it, but I guess that's human nature, or mine at least. I will now throw away a lot of other nostalgic stuff I've amassed over the years.
14th August 2020
Since January, my wife and I have been keeping safe at home, scarcely going out apart from shopping once a fortnight and going for walks in the countryside around here. We are both classed as vulnerable as we are over 70 and have health problems - I have cardiovascular disease and my wife has diabetes and atrial fibulation. We have to be very careful.
Since last November I have spent the time writing stories, plus re-writing a couple of books in digital form which I wrote nearly 40 years ago. You can find them here with more to come. What has struck me is that words fall short in describing the full emotional content of pure music(by which I mean music without words, such as most pop music). You simply cannot describe the emotions conjured up by the tone of an instrument, a certain chord, the telepathy between musicians. My favourite jazz piece of all time is My Funny Valentine by Miles Davis which was recorded live in 1964. Listening to it recently, I realised that words are powerless to describe even a single note played by Miles. The same goes for chords, whether played by a pianist like Bill Evans or orchestrated for a large ensemble by Gil Evans. In classical music, the sounds created by, say, Beethoven or Stravinksy, can never be described in words. As musicians, remember that you have the ability to create this magic which reaches parts of the brain which language cannot do. Use it wisely. Other people do not have this unique ability.
On a lighter note, in writing stories I have approached each one as if is a jazz piece. Once I have set the scene, I just improvise and see where it gets me. Then, in true arranger fashion, I tie up any loose threads to finish off with. I'm sure this is not the way to do it, but it does help to give the stories an ad lib flow which you can't get by planning everything meticulously beforehand.
21st December 2019
What attrocities the Syrian and Russian armed forces are up to in Idlib, Syria
11th July 2019
My name is Abu Shaimaa and I am a member of the White Helmets (Syria Civil Defence). As the administrator of the Hero Fund, which is sustained by donations from you and thousands of others, I wanted to take a moment to thank you from the bottom of my heart. Your generosity is changing lives every day by making so much of what we do possible.
The past two months have been very difficult for our teams in Idlib, where more than 3.5 million civilians, including 1 million children, live. The Syrian regime and Russia have escalated their aerial attacks on the area, pounding dozens of towns and villages with missiles and barrel bombs. Our volunteers are working round the clock to respond to the attacks and pull families from under the rubble of their destroyed homes. We have saved 1,564 lives since April 26 but sadly we could not save everyone. 544 civilians have been killed including 130 children.
As with previous major offensives on Aleppo and Ghouta, the regime and Russia's barbaric policy of targeting our centers and rescue workers continues. Since the beginning of the offensive, we have lost three volunteers who were deliberately targeted by Russian and Syrian warplanes while responding to earlier attacks. They are Mohammad al-Shawa, Omar Kayyal, and Ali Kaddour. Yesterday, we lost our volunteer Mahmoud Mohammed Ali who was killed with his daughter Yasmine when their residence was bombed. We mourn our fallen colleagues every day.
On April 29, one of our main warehouses was bombed, leading to the loss of over $500,000 worth of life-saving equipment. We are deeply grateful to many of you who chipped in after that attack to help us replace some of the equipment we lost.
Dozens of volunteers have been severely wounded during the offensive. As the Hero Fund administrator, I get the first phone call when a volunteer is injured, and it is my responsibility to make the necessary arrangements to ensure they get medical treatment as soon as possible. It is your generous support that allows us to do that and I cannot thank you enough for giving these teams the comfort of a safety net and helping them get back on their feet.
They are among hundreds of other volunteers who have sustained serious injuries while saving lives over the past years. Many were wounded in double-tap airstrikes that aim to kill the first responders that gather at the scene of initial bombings. Because of your donations we were able to pay for surgeries, hospital stays, medications, and prosthetic limbs.
Today close to 3,000 White Helmets remain in the province of Idlib and the countryside of Hama and Aleppo in northwest Syria. As Russia and Assad's attacks show no sign of abating and the world's attention shifts further away from Syria, your solidarity gives a glimmer of hope to those working tirelessly to help others. It keeps us going.
In gratitude,

Abu Shaimaa
Mais from The Syria Campaign here. We've redesigned the White Helmets website and introduced the option to give monthly donations to support their work. Please chip in if you can to support the life-saving work of the White Helmets on the ground and share with your friends whitehelmets.org
13th August 2018
Dear Paul,
In the first eight days of August White Helmet teams in northwest Syria responded to 23 airstrikes and bombings in Idlib. More than 3000 of our volunteers continue to help the influx of people arriving in Idlib and surrounding areas, providing emergency relief, community trainings, first aid, clearing rubble, extinguishing forest fires. This week a team opened a cultural centre in the hope that art and heritage will help heal many a heart after so much loss.
Last month alone our Idlib teams rescued 970 injured people, including 233 children. Despite the incredible work of our volunteers, I live in constant fear for their safety. I pray that the northwest, with almost 3 million trapped civilians, does not befall the same fate of Aleppo, Ghouta, Daraa.
Three weeks ago almost 100 White Helmets volunteers escaped the bombs and the threat of detention in Daraa and are now safe in Jordan where they await resettlement to Germany, the United Kingdom, Canada, amongst others. The UNHCR participated in the coordination of the agreement to resettle 422 rescue workers and their family members.
The evacuated volunteers continued to serve their communities until the last possible moment. However when the Syrian regime took the area, our work became impossible.
In addition to the intense aerial bombardment of civilian areas, the White Helmets were singled out for specific targeting. Four volunteers were killed and dozens injured due to bombardment of the Syrian regime and its allies. Four White Helmet centres were hit and many rescue vehicles destroyed.
No one could guarantee the safe passage for displaced humanitarian workers to other areas outside of regime control, leaving us to fear detention, intimidation or worse once the regime had control of the area.
The targeting of the White Helmets by the Syrian regime has been systematic and well documented. Since our formation 251 volunteers have been killed in the line of duty, the majority from "double-tap strikes".
For years we have asked for international community to honour its commitments to end the brutal attacks and allow every Syrian to stay safely in their homes. Today, we repeat this request, as more than 3000 volunteers are working across both southern and northern Syria to serve our people under the bombs.
In the absence of protection, we thank all governments that contributed to the success of this operation to rescue the rescuers, and we ask that they do more to help the hundreds of thousands remaining in southern Syria. We confirm that the White Helmets will continue their mission to serve the Syria people in all possible areas.
As Syrians who love our country it breaks our hearts to be forced to leave it but it was the only alternative for our trapped volunteers who would otherwise have faced detention or death.
Please continue to support the White Helmets who remain working in Syria and think of those who have left as they embark on a new start with new communities around the world.
In gratitude of your support,
Raed al-Saleh
Head of the White Helmets (Syria Civil Defence)
PS - If you'd like to do more to support the White Helmets, please donate here to help them replace lifesaving equipment they lost, treat wounded volunteers, and support the families of the fallen.
April 5th 2018 - message about Ghouta, Syria
Dearest friends,
This week marks another crime of forced displacement in Syria, another wave of thousands of families packing a few precious belongings and boarding buses, never to see their homes again. 130,000 people have already left Ghouta after surviving a month's brutal assault and five years of siege, longer even than the siege of Leningrad. One by one we ask our friends about the heroes who have reported, photographed, fed families, treated patients, and rescued civilians from the rubble of this cruel and historic siege.
We can only be thankful for the safety of those who survived. This month of massacres took the lives of more than 1,400 civilians. Those leaving now have experienced the hell on earth of relentless Napalm attacks, hospital bombings, and attacks on schools and the basements they were hiding in. And that was just in recent weeks.
Over the past five years, Ghouta has faced terrible violence including the sarin gas chemical attack that took the lives of hundreds in their sleep. And despite it all they have taught the world a lesson in courage and resilience. When the regime lost control of Ghouta its people built new forms of local governance and held free elections for the first time in the history of Syria. When the bombs started falling on neighbourhoods its teachers and doctors took schools and hospitals underground and ordinary residents put on white helmets and rushed to rescue their friends and neighbours. The people of Ghouta launched inspiring civil society projects, often women-led. They created new media platforms and produced award-winning photojournalism. They created alternative energy resources and introduced new farming techniques.
But after this latest, relentless onslaught, people were truly left with no choice. If they remained in Ghouta they risked being detained and tortured as the Syrian regime closed in, particularly the ones who decided to teach, treat the wounded, or post updates to Facebook. So now many are leaving behind everything they have ever known to go to a place that is not that much safer. The province of Idlib, home to more than two million, is also being struck from the air by the Syrian regime and its Russian ally.
Together we did everything we could to get the people and institutions with power to save Ghouta and stop the massacres. Thousands of us flooded the inboxes of UN Security Council members demanding they enforce their resolution for a ceasefire. We jammed the phone lines of Russian embassies, letting them know the world was watching and demanding an end to their massacres in Ghouta. We shared the stories of the women of Ghouta, their demands and their accounts of daily life under the assault, and we demanded action. And then, when protests were not enough to stop the killing, thousands of dollars were contributed to a grassroots fundraiser for the kitchen of Um Samih, to make sure she and her team could feed people living in underground shelters packed with women and children.
Though the powerful chose not to act, thousands of us across the world from all nationalities stood in unwavering solidarity with the people of Ghouta. And in Syria too of course. In Idlib, which faces its own economic challenges, we saw grocery shops, bakeries, and toy shops of children put up signs addressed to the people of Ghouta to take anything they need for free.
Now as families from Ghouta arrive to Idlib, our campaigning and solidarity must continue. These families are only some of the thousands of people who have been moved there after surviving starvation sieges across the country. The local initiatives in Idlib do amazing work to educate and provide relief and they are striving to continue their work despite challenges from Western donors, bombing by the Syrian regime and Russian air forces, and extremist groups on the ground surrounding them. Over the next months it will be our job to support them as well as the civil society groups who have left Ghouta and other areas and want to continue their work in Idlib.
Ghouta has set the ultimate example of civil resistance and what a society can be when neighbour helps neighbour. It is up to all of us continue living by that example every day.
In solidarity,
Bissan (The Syria Campaign)
Letter from the White Helmets in Syria - February 22nd 2018
As Syrians, we have experienced death in so many more ways than we ever dared to imagine: we have been killed by barrel bombs, chemical weapons, starvation, drowning, torture, napalm and cluster munitions. This month, in eastern Ghouta, another encounter with death was added to the list: the corpse of a mother dug from under the rubble by her own son, a White Helmet volunteer.
The situation in Ghouta would break any heart. Some in the international community have run out of words and have stopped describing the horror. But the suffering of my people compels me to speak in direct terms: the world has left hundreds of thousands of civilians to starve or be bombed to death by the Syrian regime and its allies.
Ghouta has endured a barbaric siege for five years, cut off from food and medicine, but nothing has prepared us for the past 48 hours. Dozens of barrel bombs i.e. improvised weapons filled with explosives, shrapnel and anything that will rip through skin have been dropped on homes. Hundreds of missiles have been fired. Eight hospitals have been struck. More than 250 people have been killed and the death toll is rising by the hour. Thousands have been injured. All of this in an area of a little over 40 square miles.
Families in eastern Ghouta have been hiding in basements for weeks at a time, too scared to go above ground, but even these makeshift shelters are being shattered by relentless bombardment.
White Helmet rescuers in Ghouta are facing hell: they have left their families, often without the basic necessities, to rescue others. Some have returned to find their families had been forced to flee. White Helmet teams were targeted while on a rescue mission, and a volunteer was killed. This is not a war: this is a massacre.
The deteriorating situation across the country is stretching the White Helmets like never before. We have lost nine volunteers since the start of the year and more than 50 have been injured. The attacks on our centres and missions have destroyed much of our life-saving equipment and ambulances, making the work of saving lives much more difficult. My medical colleagues are suffering the same strain.
our work, we have saved more than 100,000 lives over the past four years, often by carrying civilians in our arms to the safest place we can find. In eastern Ghouta, nowhere is safe and there is no escape. All we can do is rescue people from immediate danger and hope and pray that the hospital or home where we leave them is not struck immediately. Can you imagine making such decisions, with jets overhead?
All this is happening only a 20-minute drive from Damascus, from UN headquarters and the palace of Bashar al-Assad; a few hours on a plane to Geneva, where peace talks are happening. But as you look at the pictures of dust-covered people emerging from rubble or kids screaming out in pain, it could be another planet - one where the worst of humanity is in charge. For we have never seen anything like this before in this world.
I am a Syrian humanitarian, not a politician, so forgive me if I appear naive when I fail to believe that the world's most powerful countries cannot protect children from waking up tomorrow in the rubble of their homes, their parents nowhere to be found. The Syrian people hold international leaders responsible for failing to prevent their suffering, and demand that they use all measures available to stop the aerial attacks, break the siege and immediately evacuate the hundreds of people in need of urgent medical attention. The White Helmets' motto is: "To save a life is to save all of humanity." I ask those who can to join us in our mission.
Thank you, as always, for standing with us on the side of life.
Yours,
Raed al-Saleh
Head of the White Helmets (Syria Civil Defence)
James from The Syria Campaign here. People everywhere are trying to make sense of the events of the past week. Please forward Raed's email to your friends and family, or share on Facebook and Twitter so the voices of those on the ground are heard during these important debates. If you'd like to do more to support the White Helmets, you can donate to the Hero Fund here to help them replace the lifesaving equipment they lost, treat the wounded volunteers, and support the families of the fallen.
The Syria Campaign is an independent advocacy group campaigning for a peaceful and democratic future for Syria. Our mission is to elevate the voices and demands of Syrian heroes.
Want to know what's happening in Syria? Start here with these figures telling you who is killing civilians: Who is killing civilians in Syria?
We take no money from governments to maintain our independence and rely solely on donations from individuals and philanthropic foundations. Donate to The Syria Campaign here.
Trump's funding by the NRA
The amount of money the NRA (National Rifle Association of America) spent on getting Donald Trump elected as president was $30.3 million. For others who received money from the NRA see this article
Trump versus the environment - March 27 2017
Having failed in his attempt to restrict immigration from 6 Moslem nations and in not being able to overturn Obamacare, Trump now has his eyes on doing his bit for global warming. See this. What a madman!
I do not recognise Trump as the legitimate President of the USA. He did not win the majority of votes and in any other country he would not be considered the winner, but the USA has some arcane outmoded customs. His policies endanger the whole world in different ways. I am truly scared about the future. One week into the presidency and he has already alienated a lot of people, including other world leaders. The only people who can do anything about it are other Americans. Over to you.
Footnote, August 10th 2017
Trump is now playing with fire and threatening nuclear war with North Korea. How much longer does the world have to put up with these maniacs. We can do nothing about Kim Jong-un. But Trump is another matter. I no longer think that getting rid of him is a matter for just Americans. He is a danger to the whole world - either we all die in a third world nuclear war or from the effects of global warming. What would Americans do? Engineer a CIA plot to create a coup against him as they have done many times in the past with other countries. So what are they/we waiting for?
The most beautiful voice I've ever heard
Find out more about Lema Chamamyan here.
The run-up to Christmas
At Christmas time, millions of people think about the birth of Jesus and mouth the tired old slogan "Peace on Earth, Goodwill to all men." Meanwhile their governments are engaged in conflicts in the Middle East or arms companies from their countries are fanning the flames of such conflict. Let's not just say Peace on Earth but DO something about it - particularly the wars in Syria, Iraq and the Yemen where thousands of people have been displaced from their homes, many of whom are injured or have lost family members and become refugees, only for countries in Europe to shun them and refuse to help them. The human race has lost touch with humanity. We need to think of people in every country as members of one family - the human family and do whatever we can to stop this mindless violence which will in the end destroy us all!!
Aleppo
We buy goods from many different countries, eat food from different countries, look at websites from different countries. Individual countries are in many respects irrelevant. We are all linked to one another wherever we live. None of us get a choice where we are born, so none of us has an obligation to support that particular government.
When I see conflicts in other coutries I think - there, but for the grace of God, go you or I (even though I am an atheist). What is happening now in places like Aleppo affects us all. We cannot turn a blind eye to it. I am so very angry with what that psychopath President Assad is doing, backed by that dangerous meglomaniac Putin. The killing of civilians should never ever be allowed.
To deliberately target hospitals, places of refuge and aid convoys are war crimes. Those responsible should be shunned by the international community and should be tried as war criminals. No-one involved should escape responsibility - the pilots and crew, their military commanders and their political leaders. Read this.   Here is an earlier article. The articles show the frightening levels of savagery which human beings have now descended into. Why is there not an international outcry about this? There should be.
This is an important video to watch about the Geneva Conventions.
I would go one step further.   Russia, I would advocate, should be thrown off the UN Security Council. So should the USA, UK, and China for similar reasons on other occasions. The membership of the Security Council should not consist of those countries which have nuclear weapons, in fact this should disqualify them from being on it. Instead, I believe the Security Council should consist of countries which have behaved responsibly. I would suggest Germany, Sweden, Costa Rica, Canada, Slovenia, New Zealand, and one or more countries from West Africa and Asia. The exact composition should be reviewed yearly. They could be chosen according to their activities/stance on peaceful international relations and on their human rights record. Stripping Russia of its seat on the Security Council will not hurt ordinary Russians but it will hit the pride of its politicians.
In the meantime, what can we do about it. Firstly, we must make sure that Russians are told what their government is doing in their name. Do everything you can - write to people there you might know, write to the newpapers, put information on social media. Let the Russian people take action into their own hands. Secondly, write to the Russian embassy in your own country. Don't be put off by being fobbed off. Thirdly, it is not just Russia which targets hospitals. America and Israel have done so in the past, so be ready to take the same action when they commit war crimes. We cannot allow such heinous crimes to continue.
And some really great rhythmic music from Mosul which will appeal to jazz musicians.
When you read the news about Mosul think about this music and what is being destroyed in this orgy of violence and bloodshed.
The Environment
I am much indebted to Joe Thomas who has sent me an article about 6 things which have a detrimental impact upon the environment. You can read it here. I would be happy to include any other scientific articles from anyone on any aspects relating to world peace or on global warming, especially since the US election of Donald Trump, a global warming denier his appointment of a former chief executive of Exxon as Secretary of State.
Last call
I've finally just about finished tying up loose ends with my music. I've indexed parts and replaced a number of parts for my former band, now called The One World Orchestra. I've finished doing lead sheets for all the newer charts which hadn't yet got them put up a lot of videos on youtube from my last (and final) concert. The sound balance, I'm afraid, is not good. But it is the only record I have of my last arrangements. Wish I had had time, money and the opportunity to make a proper recording of the band.
It is now over 2 months since my gig - the only one I have had since last December. Two months without touching the piano at home. It's 64 years since I started playing piano, and 50 years since I wrote my first arrangement and have done quite a few since then. What do I do next, I wonder?!
Musings on music
Classical music - I like a lot of classical music. What I don't like is the snobbery that surrounds it and the fact that it is tied up with nostalgia. The old classic repertoire is played over and over again and new writers hardly get a look in. I also dislike the hierachy in symphony orchestras and the sheer rigidity of it with no spontaneity or personal expression by individual musicians allowed. It might as well be played by robots. OK, standardisation is needed for certain things. But apart from the degree of excellence there is nothing which distinguishes one orchestra from another. It seems that classical music is copying the pop world in using sex to promote concerts and videos. I'm thinking particularly of Bond. I also saw a video recently of a woman with a skirt high up on her thighs playing something by Beethoven. Ludwig would have like to see her as he was no good at attracting women, unlike Mozart. What he would make of the music is another matter. Mixing sex with music is OK for young women but not so good for older not-so glamorous musicians who have played and worked hard for years. We live in a shallow world nowadays.
Pop music - this is a huge field. There is some pop music that I like. What I don't like though is the formula-written chart stuff which is purely done to sell "records" and provide loads of money for the companies and the artists. This is the nasty side of capitalism and yet lefties are hooked by it as much as raving capitalists. It is insidious and has brain-washed several generations of people. Anyone who confesses that they don't like certain pop music is thought of as a weirdo - something wrong with them. You can count me in that category. What pop music has going for it is a fresh approach to chord progressions unencumbered by 2 5 1s, and the shear energy that comes from it. Then there are pop music videos: a lot of very creative work goes into some of them but the expense of producing them must be exhorbitant. If you are producing a video for a singer like Beyonce though you know you will get your heavy investment back and make a huge profit. Unfortunately for other musical idioms, this is out of the question. Just consider the talents of many people involved in making a pop video - the musical arranger having to make something of a pig's ear, the studio sound engineers, the special effects (CGI) people, the musicians. Then there are the song-pluggers, promoters, and computer whiz kids...all so that an ambitious girl with long legs, a fixed grin, a good hair-stylist and a push-up bra can become a "star" and make lots of money.
Folk music - I have a soft spot for folk music from different parts of the world. Unfortunately it has become subject to infiltration by commercial pop music and has been watered down. In some ways, I prefer genuine folk music/ethnic music to jazz.
Jazz - Obviously this is the music that has had great appeal to me. No other music can match the magic of people like Miles Davis and Bill Evans. What I don't like about jazz is the pretentiousness of some of it by critics and reviewers rather than the actual musicians. I also dislike the closed-minded dated nature of a lot of jazz with players who are more concerned with impressing fellow musicians than the general public. Jazz has become totally irrelevant to many people. It does not address current issues but hides under the escapist banner. If you want to find relevance you have to turn to some pop music. I also get very irritated when soloists don't know their chords and scales. If they think it's all going to come to them out of the blue they are living in fool's paradise.
25th April 2016
A few days ago I went to see the cardiologist for a check-up since it was 6 months since I had a stent put into my right cardiac artery. If the stent itself becomes blocked up it can take a mere 3-6 months to become noticeable. But I am feeling fine now, although the thought of what the cardiologist might say made me feel very nervous for a few days beforehand.
As he was not the cardiologist who had been on my case before he said he would put up the results of my initial cardiogram on his computer. As soon as the video of my pre-surgery heart condition started to play he said: "Bloody Hell! It must have been 99% blocked!"
That made me think back about the time I was suffering from angina and breathlessness. One day, not knowing of the seriousness of my problem, I had walked 5 miles, much of it uphill, from the nearest town to my house in our village. It was evening and it was getting twilight and I walked on a footpath which is in places secluded from the main road, not that there was much traffic about anyway. It had been hard going and I had to rest several times. No wonder! I could easily have had a heart attack and could have died. A sobering thought! However, I survived and had a successful angioplasty a few weeks later when the stent was placed in my right artery. Parts of my left artery are about 40% blocked but I can live with that.
What I would like to say about it is this. Plaque caused by too much fatty foods and sugary foods starts to build up in your arteries when you are a teenager. In middle-age you don't give a thought about such health matters but that is not to say that trouble is building up inside you. Then, often in your 60s but it might be sooner, wham! Smoking (I don't) heavy drinking (I don't) obesity caused by eating too much of the wrong things, (my wife cooks healthy meals), stress (OK, that does affect me) and hereditary matters (I expect that is the case with me) are other factors leading to cardio-vascular disease.
The warning signals are angina, the severity of it varies in different people - it was only mild for me; breathlessness usually after exertion, but not necessarily so; aching shoulders; and often, indigestion. If anyone reading this is suffering from these symptoms please go and see a doctor. It may be much more serious than you think. Men are often reluctant to go and see a medical practitioner, believing things will clear up of their own accord or believing they can fix the problem themselves. This doesn't happen.
So if you are unlucky enough to have a heart attack and there's no-one else around there is something you can do which might give you time enough to get help. Cough. Coughing massages the heart. And take deep breaths. These simple steps may save a life. Yours.
9th April 2016 - Why I am giving up music
I'm now 70. I've been playing piano for 64 years and writing music for 50 years. I can't stand it when people outstay their welcome so I think it is time for me to give up music completely.
There are various reasons why I have made this decision to quit after the 5th June gig at the Brunswick, Hove with my big band. When you become a bandleader, people tend not to get in touch with you about playing with them anymore. For the last 7 years since I formed the band, there have been very few offers of other gigs and in the last year, none. I was never that good at playing anyway. I do admit that. I know my weaknesses and other people know them better. There are also very few gigs about now for working musicians, especially old farts like myself.
Regarding teaching, that has never been my strong point. I apologise to everyone I've tried to teach. I hope it hasn't put you off playing for good.
I did like writing music (original music) but it takes a whole band to enable it to come to fruition. The dots by themselves don't mean a thing. You rely entirely upon other people. Fortunately I have had some wonderful talented people in my big band. But running a big band is not easy. It is very expensive and now I do not have the spare cash to spend on it. Finding gigs for the band has proved to be extremely difficult. Jazz is a niche, modern jazz is a smaller niche, modern big band is an even smaller niche and original modern big band music is a miniscule niche. The only way to do it is to organise it all and promote it and hope someone will come along and hear the band. My experience has been that few people have wanted to come to my concerts. I can't argue with that. Not to worry, I'm just about written out now.
The other aspect of running a big band is finding deps when regular members can't make it to a rehearsal or to a gig. I fully understand when people can't make it - the offer of a paid gig, illness, family circumstances, etc. I don't resent anyone for not making a rehearsal. What I don't like is when people know for a time they can't make it and tell me at very short notice - 24 hours or less, or when they simply don't turn up.
Finding deps is not always easy. I am extremely grateful to everyone who has been a dep at different times. Some people are very considerate and let you know straight away if they can or can't make it. There are other people though who do not respond to your messages so you don't know where you stand. I find this whole thing to be very stressful. Maybe it is for reasons such as these that big bands folded as much as for purely economic reasons.
There is also the issue of poor health, my own and my wife's. I hate to admit it but I'm also starting to go a bit deaf. I can't remember which ear. Maybe dementia is to blame.
So after my June 5th gig at the Brunswick in Hove, I am no longer going to play, write or teach or have anything to do with music. There are other things I want to do while I am still capable, things which to my mind have more value than music. That's it.
12th January 2016 - Madaya
Finally some aid has arrived for the beseiged population of Madaya in Syria. The starving people here have been forced to eat cats and dogs, weeds and even earth to stay alive, although some have died from hunger or are seriously ill from malnourishment. This is a terrible indictment of the Syrian government and President Assad (the friend of Putin - allow me to spit!) It should be the prime responsibility of govenments to take good care of their country's inhabitants. Assad does not share this view. He believes in killing his own people. He should be brought to the International Criminal Court in the Hague to answer charges of crimes against humanity. How can rebels fighting this ruthless regime be expected to hold talks with its officials! Assad's barbarism puts even ISIS to shame.
update - 7th March - The Save the Children Fund estimates that a quarter of a million children face starvation in areas in Syria beseiged by the government forces or those of the opposition. To be guilty of letting a single child die of starvation is bad in itself. To let a quarter of a million suffer that fate is appalling. How has humanity come to this level of brutality! Those responsible at all levels should be named and shamed and put on trial for murder. I despair of the human race at times. But enough of words. What is needed is urgent action to avoid the situation...NOW
27th December 2015
For some time I have worried about 2 things with regard to jazz, particularly in writing music: Relevance and Value.
I do believe that jazz has to be relevant to the present time, otherwise it's just an exercise in nostalgia or escapism. This infers that it should be up-to-date and since jazz is itself about spontaneity and saying something new, the music should at least attempt to reflect this by being forward-looking, even if it is not exactly cutting-edge, whether it works or not.
So many musicians are still embeded in the bebop mode of the 1940s to 60s. Nothing wrong with that, but if you want to attract younger people to jazz it has to appeal to them more. Personally, I fail to see the point in doing something which has been done to death and which has already been perfected by scores of good players.
Think of it this way, it is 50 years since 1965. Since then technology has advanced by leaps and bounds - mobile phones and computer appliances have been invented and become common-place, and in all realms of science the advances made since then have been enormous. Why then are musicians so wedded to their past?
The notion of whether there is value in music is partly related to the concept of relevance. The value of pop/rock music is that it produces money. In many ways it is one manifestation of modern-day capitalism. Although much of this money goes to the artists and to the record-producers, publishers, promoters, etc, some of it does filter through to the tax system which supports things like benefits, pensions, etc.
The value of classical music is that it bestows prestige and is a lasting testiment to artistic creation over several centuries. But the value of jazz has neither of these things for most musicians. An exeption should be made for the very cream of jazz musicians.
As someone who just likes to play/write music, I have difficulty in seeing what value there is in spending so much time (and money) in doing it. A few years ago I nearly gave up all musical activities for this reason. But then, I do feel compelled to keep writing, basically because it's what I do - a long-term habit. So I have had to find value in what I'm doing.
One way is by distributing (by youtube mainly) recordings I have made with friends, such as Trevor Kaye and Frank Taylor, who have passed away to remind people what good players they were. I also have written music about certain other people (dead or alive) and events to prod people into remembering them, eg. Mandela, Aung San Suu Kyi, Archbishop Romero, as well as events such as global warming, wars, terrorist incidents etc. In the Brighton Jazz Suite and the East Sussex Jazz Suite, the music relates largely to historic or present-day events. This has historical relevance.
My aim is also to highlight members of my band who deserve wider recognition as I value them highly. Looking to the future I intend to write a jazz suite on Walking, entitled All Walks of Life in 2017 which I will draw attention to the benefits of walking and exercise in general and which may raise some money for The British Heart Foundation or the Sussex Heart Charity. So these are some ways I am trying to find value in my music. I hope to find other ways too.
As for there being any value in bringing pleasure to people with my music, I very much doubt it. In fact, I bring more pleasure to people by not exposing them to my music. To prove that, I have given away loads of DVDs of my band. Hardly anyone has responded, not even to thank me, so I can only presume they feel embarrassed by being given the DVD in the first place, so keeping silent is a tacit recognition of the fact that they dislike the music. I would probably respond in the same way myself. Has anyone else had a similar response to their music, I wonder?
Nice stent you're wearing - October 6th 2015
I had an angioplasty a few days ago and a stent was inserted in the narrow part of my right cardiac artery. No pain or discomfort whatever. What excellent technicians! They showed me a short video of my artery before and after treatment. I didn't understand at the time (I was a bit groggy) why the artery kept moving. It only struck me yesterday - it was my heart beating. To have observed my own heart beating seems unreal or surreal. It's like seeing what constitutes life itself. Amazing thought. I am now recovering from the procedure, trying hard not to overdo things but gradually increasing physical activity. In this period of enforced rest and and recupperation at least I can take things easy and write some new arrangements. Whether they get played much at all is not important, it's the sheer act of writing them which is the main thing.
What is happening to Hungary under Viktor Orban and his government!
During the Cold War period until the mid-1990s, I was very active in the peace movement. Instead of focussing mainly on nuclear weapons, I thought it was more important to promote peace and dialogue between people in different coutries, most particularly Hungary and Britain.
Along with partners in Hungary, the organisations I was part of organised various exchange visits and helped to break down the cold war images which bombarded us in the media at the time. Up until very recently I have made many visits to this beautiful country and met many wonderful people.
Since coming into power, Viktor Orban and the Fidesz party have undone so much of what we set out to achieve. While I understand the problems which can arise from being on the route taken by refugees from the Middle East to the countries of Western Europe, these can surely be handled in a civilized way, which is far from the way that the Hungarian authorities and police have done. To put it bluntly, Viktor Orban is an utterly stupid, arrogant excuse for a man. How on earth did he get elected? This is not to blame many ordinary people in Hungary who have shown kindness to people fleeing wartorn regions. It is the government added by the media in Hungary which have brought disgrace upon it. How would Hungarians have liked it if in 1956 those fleeing the Soviet stamp-down on their country had been sent back or been treated like the migrants have been treated in Hungary?
Here in Britain, we also have an idiot of a prime minister who is more interested in placating the far right of his party and lining the pockets of the rich than in taking care of the interests of the whole country and being a responsible member of the international community. Would that we could have someone of Merkel's stature in control.
So my love affair with Hungary is over, at least for the present time. When Hungarians kick out this dreadful man and his government, I may change my mind, but that is a matter for them.
28th August
I had an angiogram today. The medical staff at the Sussex Royal County Hospital were just fantastic! The nurses treated me like an old friend and couldn't do enough for me. The doctor and other members of the treatment staff were all wonderful too. I thank them very much. The tests revealed that one of my arteries is 90 percent blocked so I will have to have a stent fitted in a few weeks time. Thank goodness I went to the doctor when I started feeling chest pain and shortness of breath. If I had ignored it, as we men tend to do, I could have ended up with a heart attack sometime in the future. My advice to anyone in a similar situation, go and see your doctor at the earliest symptoms.
I think it is very important what you wear when you go to a hospital. As it was the cardiac unit I wore a cardigan. For pulmonary diseases I would have worn a pullover and for geriatrics (jeriatrics) I'd wear a jersey. You should always wear a raincoa (ray'ncoat) for x-rays, an anorak for treating anorexia and having anaesthetics and a smock for maternity wards. Any garm-ent for Ears, Nost and Throat problems, dungarees for the pharmacy (farm-acy) and you can guess what for the sexual transmitted diseases department. You can believe this or not - thereagain it might all be rheumatology (rumour-tology. Sorry, I'm a bit punch drunk this evening.
Serious music - no thanks! June 25th 2015
It strikes me that the less important something is, the more it is hyped up, the more it is written about in erudite scholarly terms, and the more passionate its adherents feel about it.
Some time ago I tried designing table games for people to play. The magazines which cover games are really serious. Then there are sports. You would think that someone hitting a ball over a net was on a par with Einstein. Sports are so manic as far as earnestness.
I feel the same way about things written about jazz. Let's face it. Jazz is really very very unimportant. OK, if you've got your hackles up already, ask yourself what is really important? Here are some things. Producing and distributing food. Building houses. Looking after people who are sick. Protecting the vulnerable. Teaching children essential things. etc. etc. We cannot do without these things. Even pop music is more important than jazz because it provides a lot of money by way of taxes for the government.
I'm not saying that you should not try as hard as you can to do a good job. But the way it is often written about seems to give it an importance which is very inflated. I call this pretentious twaddle. No-one would die without it. no-one would come to any harm without it. By making it seem so serious it takes away all the fun. And jazz basically should be a fun thing. It's a bit like an author writing a best-selling book. When that book is chosen as an examination text, it kills it.
PS. If anyone gets to play any of my music, don't treat it like a holy gospel - it's just me rambling on. Have fun with it. But don't get too serious about it. Please.
June 23rd 2015
I am addicted to Sudoku. Not that I am brilliant at solving them all, but I just love doing them. They are supposed to be good for keeping the mind active and helping to stave off dementia. Each puzzle requires a lot of logical thought processes which is rather like writing music. I realised the other day that it is not getting them all out that is important but trying to get your mind around the challenges they demand.
I suppose the lesson from this can apply more widely. When I was teaching someone to play piano the a few days ago I told my pupil that getting things perfectly right is not what is important, it's the slow process of working out things like finding the right chords which in a way is more useful. In other words, practicing is the essential thing. The end-result is the aim, but it should not be the only thing that matters. Some people get things right all the time, but they never learn anything from the experience of getting things wrong and then finding where they are going wrong and how to correct it. That way you can learn how to apply what you have learned to other situations and be creative.
What's in a name
Words can be confusing or create a false impression. I used to call myself a musician but nowadays every pop singer says he or she is a musician. OK, they may be, but it's not the same as what I see myself as.   I shy away from calling myself a pianist which sounds like someone who plays classical music (very expertly). The alternative is piano-player which rather suggests a machine rather than a human being. The word kayboard-player definitely suggests someone in a pop group while keyboardist (if such a word exists) could suggest the same thing, even if it were possible to pronounce it.
As for writing music - composer is far too pretentious as I'm not in the same league as Beethoven or Brahms. A music-writer sounds like a bit of software. Arranger is OK but most people do not know what that means and think it entails someone who organises something, like a conference.
I am worried about the tem big band. This makes the general public think you are playing 1930s swing music, whereas Orchestra is too classical and implies that there is a large string section involved. A jazz band on the other hand sounds like a trad band.
All of this is very confusing and can easily give the wrong impression. Maybe it's best to describe it without any of these nouns, so I play piano and write music for a modern jazz ensemble/group/band. Even so I have had people come up to me and say - How can you write jazz? It's all improvised, isn't it?
You could say that none of this matters, but I can assure you it does when you are trying to design a poster or write a press release. Or apply for motor or travel insurance.
Doing either of these tasks reminds me of a another problem. I always pay the musicians in my band, not much usually as it partly comes from my own pocket, but I do believe that they are doing a skilled job and should therefore be paid. For that reason, and also because I need to cover other espences in putting on a gig, I have to charge entrance fees to the public, not a lot, but something to help offset the costs. However there are several other big bands around here who do not charge anything for entrance and they do not pay their musicians. Consequently, my problem is that the public do not come to my gigs at least in large numbers when they could hear other bands for free. I'm not sure what to do about this. Not to pay the musicians is degrading to them and is a form of exploitation to my way of thinking. You have to pay for drinks, parking your car, etc etc. Surely you should have to pay to hear good musicians play! Any suggestions, anyone?
A couple of videos from the One World Jazz Suite last October I've put on youtube.
Some other videos from the same concert can be seen on the fourth Projects page - One World Jazz Suite
14th January 2015 - Owning up
When I was in my late 40s, I realised that I would never get anywhere as a pianist, although at the time I was getting several gigs and I was enjoying playing. A few years ago, the gigs dried up apart from my one weekly solo piano stint. I'm now down to about one a month with a trio. It's polite jazz suitable for dining purposes and it suits me, although people who go to jazz clubs would look down on me. However as I don't rate myself highly as a pianist that doesn't worry me.
I thought as a music writer, I might get somewhere. For a time things looked promising. But I realise I might have been delusioned about it. The local jazz scene is not interested in my music so I guess I'm not up to much really. It's taken a long time for me to own up. I don't really see much value in writing music with problems like global warming and terrorism concerning everyone. Still it gives me something to do which does not harm people or hurt the environment and it gives me an excuse to get out of the house every now and again.
19th November 2014
Still trying to make sense of why my concert was so poorly attended (see my tutorial on "Putting on your own gig"). There are various reasons that come to mind, some of which have been pointed out to me. Another big band which put on a concert recently which was attended by several hundred people which made me think I could expect a similar number, especially with a celebrated guest star, featured a suite by a terminally ill, highly repected and much loved local musician so many people went along to pay their respects to him.
Another reason is that some local big bands do not charge an admission fee for their gigs but pass a bucket around for donations instead. The musicians get a share of the amount which is pretty paultry. I do not go along with this as I think it is an insult to musicians to ask them to play for free. They have spent years learning their craft. Members of the audience have to pay for their drinks, for parking and for petrol. Why shouldn't they also have to pay to hear musicians play?! The musicians are in fact subsidising the audience as they themselves have to also pay petrol and parking to get to the gig. So bandleaders who follow this practice and musicians who agree to pay for free are creating a problem. I personally always pay my musicians, not as much as i would like to pay them but as it comes mainly out of my own pocket it can't be much. Having to cover the cost of the venue and publicity also means I have to charge an entry fee. I look forward to the day when solicitors, accountants, bankers, stock-brokers and others donate part of their time for free on a regular basis.
I also think there is a lot of truth in the biblical saying: "A prophet is without honour in his own country". If you interpret "prophet" as anyone who tries to do anything different from the usual run of things it can apply in my case, as it applies to others who are in the same boat. I don't think this is applicable in a large city to such an extent.
A further reason for the poor attendance was that I found it almost impossible to inform members of the public about the concert. All of my press releases were ignored by the media, posters were not put up or were refused, and jazz critics turned a blind eye to it because anything that does not take place in London is not worthy of them.
Am I bitter? Too bloody right I am!
7th November 2014
So my big gig turned out to be a small gig. I hired a big chuch as I was really expecting a big crowd, but less than 100 came, some of which had complimentary tickets. Those who came and the band all anjoyed it. I feel highly embarrassed by this as we had Hungary's top sax player guest with the band - and he played fantastically. But in spite of 3 months of writing press releases, taking posters around, writing to people personally, etc etc. the jazz fraternity in Brighton either did not get to know about the gig, were unable to make it or they chose not to come. I now have to think what to do next.
In the meantime, I have uploaded some more videos on youtube. PH,  The Omnibus Edition,   Star Track,  and Shore Thing.
More advanced thinking
I'm getting ready for my big concert doing logistical stuff trying to ensure everything runs smoothly. I am reluctant to start writing any more music at the moment as I find it hard to multi-task, although I have given a lot of thought to it. In other words I am treading water.
I have come to two heretical views. One is that musicians like to spend so much time practising that they lose sight of the world outside of practising. Therefore I propose that musicians should sometimes (once a week/a month/a year...)stop practicisng and even stop playing, either for a few days or for longer. Take a look at your own playing from a distance. See what bad habits you might have developed. Think of what you want to achieve, what style you are looking for, what new ideas you want to develop. Freshen up and go back to it with a more open clear mind.
There is a similar heretical notion I would like to advocate. Many musicians spend a lot of time listening to jazz. Well, stop (for a while or more permanently. Listening is good when you start off learning to play, and also every now and again to see what other people are doing. But listening can cause you to consciously or subconsciously imitate what you hear. If you want to develop your own style, whether playing or writing you need to do one essential thing and this is to listen to yourself. This is like the idea taken from Eastern philosophy. Listen to your own voice, tune in to your own inner spirit and let it guide you. Immerse yourself in a bit of music and see all the possibilities it presents and choose the ones that seem closest to your own style.
What I've been doing in the last few weeks is watching a lot of videos on things like quantum mechanics. What has struck me is that jazz is so dated. So many musicians are still wallowing in bebeop or cool modal jazz. These styles date back to the 1940s and 50s and free form music to the 1960s. For goodness sake, it is now 2014. When these styles originated, there was no internet, no mobile phones, no technological things we take for granted now. Tazz theory is old hat. No wonder so many young people are not interested in it. But I do feel that there are new approaches, new styles and a whole new theory out there. Let's try and move forward and stop living in yesterday's world.
in Memory of Ian Price
Very sadly, Ian Price, a sax, flute and clarinet player who lived in Brighton, died on the 21st August 2014. He was only recently diagnosed as having pancreatic cancer which spread to other organs. He played tenor in my big band, taking over from Simon D'Souza when he fell ill. We shall miss him tremendously. I wrote the following tune a short time ago when it was looking very likely that he would not be able to play at my next gig.
Here is a clip of Ian Price playing Pavilion from my Brighton Jazz Suite.
In Memory of Simon D'Souza
Simon D'Souza passed away in the early hours of Monday morning - 19th May 2014. He was a founder member of my big band and contributed immensely to the wealth of solos. You can hear him in action on Abinger Hammer and Pavillion which are on youtube. I also wrote a piece for him - St Dunstan, but unfortunately it was not videod but you can hear it on this sound clip. You can see him on this clip from Absent Friends which I would like to dedicate to him.
Untapping the creative impulse
Jazz musicians are enthusiastic listeners to recordings of jazz by the greats. Nothing wrong with that - it helps in the early stages to get into the idiom, and you can learn so much from listening, particularly when you choose a wide variety of things to listen to. But there comes a point when it can actually stiffle your own creativity.
I believe that everyone is born with a creative instinct which is shaped by your surroundings, your emotions, your personality, the place where you live, your life in general and your own tastes. Young children are very imaginative but this is drummed out of them in formal schooling. They are taught the works of the great writers, artists, musicians, etc which are way beyond the abilities of their own creative efforts. This is very daunting to say the least. Schooling teaches people to be critics and not participants in the creative arts. Maybe you can remember at infant school you had to write an essay on some topic such as "What I would like to do on holiday" or some such. When you get older, all such creative exercises are stopped because the exam ciriculum wants you to learn set texts - such as a play by Shakespeare, which involves memory and some analysis, but no actual imagination. The same happens in music and the other arts I expect.
Listening to the jazz greats is similarly daunting to a learner. It is a necessary step but it can be overdone. What you need to do is to listen to yourself. Listen to what you hear within yourself. It is not easy because your own inner sounds can become crowded out by all the recordings. So try and force yourself to listen and then experiment. If you are a pianist, try experimenting with different chord voicings, not just the ones you have been taught or seen, if you are a horn player, try different tones, etc. Soon you will find some things which are truly original. Build on these things and find your own voice.
Breaking the Rules - February 7th
Many jazz musicians start out by learning classical music, with the possible exception of drummers and guitarists. Arrangers, in particular, usually have a grounding in classical music. Classical music theory does provide a lot of useful information which can apply to all types of music. But when it comes to harmony and melody it can be a fobidding subject, by which I mean that there are a lot of rules, laid down in past centuries, which dictate the shape of the music. From my own experience I can only remember the negatives - no consecutive fifths, no consecutive octaves, no hidden fifths of octaves, etc. All of these restrictions were designed to create a perfectly smooth progression of voices within the harmony which will equip you to write a hymn tune. Classical musicians obeyed the rules, but on occasion they openly flouted the rules. Had they not done so, music would not have progressed at all. Interestingly enough, I don't think classical music says much at all about rhythm, even though it is often said to be the most important musical element. The problem with all this is that once you are taught that something is not allowed, it can take years and years to break free of the inhibitions it creates.
Jazz has inherited a lot of this theory but ditched some of the more outdated notions. But academics in the jazz field have thought up a whole new set of rules to obey. I think that they also go overboard in making it seem erudite as if jazz has an inferiority complex compared to classical music and has to justify itself. There is no need for this. I have tried in my tutorials (3000=4000 are downloaded every month) to simpify matters and get rid of some of the jargon.
Hurrah, then for people like the late Bobby Brookmeyer who showed that you don't have to obey a set of rules to write good music, in fact, it is extremely hard to write anything really original without casing them aside. The only cast-iron rule is this: if it sounds OK, then it is OK, I tried writing a short piece in which I deliberately broke a lot of rules. I called it Yes? - the question mark included in case it didn't work. To my mind it does. Suprisingly enough it has a bit of a Brookmeyer sound to it. What I did was to include a third and fourth (a semitone apart) in a major chord and a dominant seventh, I added a major and minor third to a major seventh, I used a natural fifth and a flattened fifth in a chord, and I voiced a few chords with the top note just a semitone away from the next harmony note. You can hear download the score and parts from the 5th Big Band page.. So try being disobedient yourself and see what you can come up with.
December 6th 2013
Yesterday I put a video of the Sussex Jazz Orchestra on youtube playing Mr Mandela. This morning the first thing I read is that Nelson Mandela has died. This is my tribute to a very great man.
November 16th 2013
November 12th 2013
The band's last gig at the Brunswick, Hove, went very well. Instead of the usual set-up, I had the trombones on the left-hand side, the trumpets along the back, and the saxes on the right-hand side with the bass guitar and string bass at the back of the open space in the middle and the drums in front of them and me on piano to the right of him and in the front of the open space. This way, all the horns were facing one another and could hear each other. The rhythm section was at the heart of things and everyone could hear them and be heard by them. This alleviated the need for fold-back speakers (for the piano, I used 2 speakers, one facing towards the audience and the other facing inwards for the band. The band were very happy with this set-up, but if it were to be repeated, they would prefer the saxes at the back and the trumpets to the right. Microphones were only used to bolster the various soloists, not to balance the band artificially - I've already balanced the band in the writing. The audience was happy to get a good view of the drummer, which from a visual perspective, is important as it is more interesting to watch a drummer than some of the other instruments.
There was a good appreciative audience (small venues are more intimite) which responded well. Someone has commented that there was a good vibe in the room.
There were a few small mistakes (isn't jazz all about making mistakes?) but nothing drastic and the quality of the solos was outstanding. I was well pleased with the sound of the band which just seemed to blend perfectly. It was all in all, a lovely farewell. My biggest treat was when 2 teenage girls came up to me afterwards and said they had never been to a jazz event, but loved it and were now well and truly hooked. It somehow makes it all worthwhile.
This is a tune called Bonfire played by my band at the Watermill Jazz Club on 23 May.
12th August
I am taking 6 weeks off from all musical activities, except for one big band rehearsal which I need to have. I need a break from routine - I've played at the Grand Hotel for 25 years for about 50 weeks of each year for 3 or 4 hours each time, most of it segue. With regard to other matters, I'll use the time off to consider whether it is worth spending so much time, energy and money writing music as I have done for years. I think it may be better if I could find something else to do while I am still fit and healthy which might be of more benefit to other less fortunate people. Frankly I don't regard music as being oe much value and wonder if writing music has been nothing more than an ego-trip for me.
Footnote -September 14th 2013
I have now decided to leave my big band after the gig on the 10th November. I have also left the trombone band I was in. That means that I have given up writing music...for now. I will continue to play the solo piano gig in the Grand Hotel in Eastbourne (until mid-February 2014) and the occasional trio gig at the Cavendish Hotel in Eastbourne for the money. But other than that I will probably not do any playing. I intend to do some voluntary work and join some local societies to get a life.
the other foot-note - 7th December
Feeling a lot more refreshed and clear-headed now. I think I painted myself into a corner with regard to ideas for arranging and was starting to churn them out to meet deadlines. I'll probably re-form the band early next year with some changes in approach. I rather fancy doing a One World Suite - a theme dear to my heart - with a nod to the music of different cultures but still firmly in the jazz camp. I have a lot of small band tunes already written which have never been played. Doing those could get me started. I didn't realise that not writing any music (apart from 2 ballads in the ballad tutorial) would make me feel restless and frustrated.
30th July 2013
I have now finished The East Sussex Jazz Suite (see Projects page), apart from tinkering about. I will add a new big band page or two with all the tunes once I have written some lead-sheets. It's one of those projects you find it difficult to end as it has a never-ending potential for new topics to write about. My next project is...? Shall I write another suite, or shall I stop writing altogether. I shall have to think it over.
The Next Big Band Gig
The next gig by the big band is on Sunday November 10th at 8pm at the Brunswick pub, Holland Rd, Hove BN3 1JF. This will consist of part 2 of the East Sussex Jazz Suite and will feature a guest spot by Mark Bassey. A DVD of the gig at the Watermill Jazz Club will shortly be available.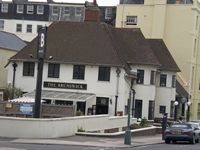 Confused about the difference between opera and jazz? Watch this:
The Value of Jazz
In 1979 when I had been playing professionaly for 11 years, I decided to give up music. The dreadful poverty I had seen in places like Haiti made me want to do something about it. So I enrolled in university in a different area of the country and took a degree in geography focussing on international development. Being cut-off from music made me come to think that music/jazz was of little importance when fundamental issues such as poverty, disease, natural disasters, wars, inequality etc. were much more urgent. Although I didn't do any gigs while at university I did write some music - a lot of the stuff in the small band section of this website stems from this time.
After finishing university, I wondered what to do with my degree and tried teaching in a local school. It was disastrous: I was not a good teacher and the children were not interested in learning. However I did manage to use my new-found knowledge of development issues in various voluntary organisations and charities, but that didn't help pay the bills.
Gradually, I drifted back into music, which was difficult as no-one knew me where I now lived. Music is a cliquey thing and outsiders are not welcome.
Since then I have come to realise that muic is much more important than I had realised at that time. It is a fundamental creative force, like reproduction, so is inherent in many people - perhaps in many more people than it is thought, since creativity is knocked out of people in the education process, replaced by the obsession with learning facts and doing what you are told to do. Music is also tied up with communication, particularly in language which uses intonation (the "musicality" of a language) to convey subtleties of meaning. It is well-known that music can conjure up or heighten emotions, which is why film music is such a powerful tool in the hands of a film director. Take a look at this short video, first with the sound turned off, and then again with the sound on as an illustration of this.
As for jazz in particular, along with certain ethnic music genres, it is unique in the emphasis placed upon improvistion. This enables a soloist to express himself or herself in their own style, unlike classical music which forbids the player's own personality from intruding. Improvisation has clear guidelines which have to be followed (except for totally free improvisation). The chord sequence, tempo and format have to be taken into consideration, but this still leaves plenty of opportunities for "saying something" fresh.
But there is more to it than that. The soloist is also influenced by what is going on around him/her - what the rhythm section players are doing and what the other horns are playing. What is important, but is often overlooked by a lot of people, is the interplay between players. The soloist may be prodded into certain rhythmic patterns provided by the drummer, or deliberately play a counterpuntal line in relation to the bass, while taking note of the harmonic (and rhythmic) ideas played on the piano/guitar or by the other horns. At the same time, the members of the rhythm section pick up on things that the soloist is playing. It all requires a lot of concentration, inspiration and lightning-quick reactions and when everything gels, it is like a form of energy that transcends normal consciousness.
So the value of jazz is tremendous. It reaches the subconscious mind in drawing out spontaneous creativity yet at the same time it requires a thorough knowledge of musical theory. In terms of overall education this has enormous benefits and can be used in musical therapy for people with certain disabilities. It revolves around the way in which a group of people can react to one another far more effectively than any committee can do and can teach people social skills. Jazz is also an international language enabling people from different cultures to communicate with one another. Whereas in classical music the content is always the same, in jazz the messages conveyed by each player can be wide-ranging and involve a spectrum of different emotions. For musicians, it fulfills a basic need - the urge to create through the medium of music. And what's more, it is just plain fun and gives pleasure to many people. It may not be able to solve the world's many problems, but without it the world would be a much poorer place.
Postscript
I nearly convinced myself. But not quite. I was speaking from the inside - someone with vested interests in music. But looked at objectively, music is regarded in highly-developed societies as being trivial and unimportant...except where recordings of pop music bring in a lot of money for the country or for corporate concerns, in which case the media is interested and governments award the artists with accolades. But jazz - it is sometimes said to be an art-form, but gets a mere pittance when it comes to government funding compared to classical music and opera. Maybe, because you can't pin down spontaneous improvising like you can with written fossilised music. Sometimes jazz is regarded as a branch of show business, but that means building a commercial product and ditching anything that might put off potential customers.
Compare this with music in countries which are not so "highly-developed". Here, music is an essential part of life and has enormous value in non-monetary terms. Today, money and property conveys status, being creative, particularly in jazz, does not. What a sad world!
Simplicity
I came across this video of Tibetan flute playing today. It reminded me of something which tends to get forgotten too much: the value of silence and simplicity in music. So much music is full of notes. I used to listen to all the pupils practicing their classical music pieces in adjacent rooms when I taught at a college. Full of notes. Classical music exams love lots of notes too. Much easier to assess than a few well-chosen notes. Classical musicians also like a lot of notes to play because they spend so much time practicing their technique. Pop music also has a lot of notes and periods of quietness are very rare - it doesn't fit in with the testosterone-fuelled listeners' life-style. Too many notes affects jazz as well. There is a time and place for lots of notes, but also a time and place for very few. Simplicity is not easy. It is much harder than playing as many notes as you can sqeeze in. Listen to the video - see how effective it is. If you are a horn player spend time practicing long notes and listen to Miles, Freddie Hubbard and Paul Desmond and others. Or if you are a pianist, listen to John Lewes, Bill Evans and Herbie Hancock (particularly the ballads with Miles). When you stop trying to be clever, you will be much wiser and more musical.
December 2012 - This is a taster of my East Sussex Jazz Ssuite. If you don't like the music there's some photos of East Sussex to look at. If you don't like the pictures, I hope you like the music.
21st November - Writing Music: evolving thoughts about it
I believe in giving the soloists a lot of space. Improvisation lies at the heart of jazz, but in a lot of swing arrangements played by big bands, the solos are merely a token gesture. I regard the soloists in my band as being more important than the framework which I have provided.
Apart from soloing by individual players, I like times when more than one player solos. This can be co-operative when the soloists listen to each other and the end result by both is a communal effort. Sometimes, though, it is part of a special effect, such as those times when I am trying to conjure up a football match or a battle. Soloing by several people at once was a part of early jazz which got left behind when jazz became respectable and individual soloists wanted people's full attention.
In most big bands there are solo chairs - usually the lead alto, first tenor, second trumpet and first or second trombone. Unfortunately this can lead to the soloists developing egos, and it means that if you occupy another chair, you will never ever get to solo. This might suit some lazy players, but I think that everyone should learn to improvise in a big band and be prepared to solo. In my band, everyone gets their fair share and everyone benefits from this. I dislike hierachy in music. In orchestras you have the composer (usually dead), the conductor (whom the musicians may wish were dead!) and the leaders of the different sections. Even in some big band there is a distinct hierachy. Playing jazz though is not about strictly obeying orders but contributing to the overall thing. My aim is to make my big band have all the flexibility and vibrancy of a combo. This means that the composer (me, in my band) has to take a back seat sometimes and let the band collectively compose part of the music. How many arrangers/composers are prepared to allow this to happen?
In much of pop music nowadays, instruments are just a way of adding a background to a vocalist. To get a modern sound, more and more use is made of technology to produce an artificial sound. This has de-humanised music. Jazz however allows people to express themselves through music in a very direct and spontaneous way.
21st November
It is strange how so-called "high" culture has shunned improvisation. Many people find it disconcerting to be confronted with the unexpected, but that's what happens all the time in real life. Classical music lovers who turn up their noses at improvisation should reflect on the fact that many composers were great improvisers - Bach, Beethoven, Brahms, Schubert, Mozart, Liszt, Chopin, and so on. Some of them were more well known in their day as being improvisers than being composers. But then sometime in the 19th century everything began to be written down and improvising fell out of favour with the classical music establishment. See this link
This raises some intriguing questions. Exactly why and when did improvisation die out in mainstream classical music? Did the great composers write pieces in which musicians could improvise (apart from the cadenzas in concertos)? If improvisation had not died out, could jazz have evolved in Europe, but minus the input of African rhythms? I posed these questions in a comment, but it was not accepted by the website as being suitable.
21st November - Writing Music: an odd experience
Writing music, or any form of literature, painting pictures, or creating any form of art, or improvising (there are many parallels between them all), requires a lot of patience, background knowledge and perserverence. It can be a very lonely task and you can easily loose confidence in yourself. But it is not something that I, for one, would not wish to do. You do it because you feel you have to, it is as natural as breathing even if there are times when you just can't seem to get things together.
Now here is something I can't explain. It is very odd that when you are writing a piece of music that most of the time things just flow. Even though there are infinite possibilities you have to choose from in every step of the way, you instinctively know exactly what to do - what instrument or groups of instruments to use, what chord voicing to use, what melody notes or lead-lines to choose, which rhythms to utilise. You don't often have to sit and think - it just comes out like water from a tap. If you do change things at a later stage, the odds are that you will then change them back to what you had originally written. Not that everything you write is perfect, far from it. But your first efforts are usually the best.
It is almost as if your hand is being guided. As if you are merely writing down what is already in the air. I ought to point out that I am not religious or spiritual in any way. I certainly don't believe that there is a God or spirit which is using me as a medium of expression. You can think that I am a bit weird, but ask any creative person and they will most likely say the same thing. Good improvisers sometimes have the same experience. The solos just flow without any conscious effort.
Part of it can be put down to an accumulation of knowledge and experience. But does that fully explain it? I'd like to hear from anyone in a similar situation.
10th September - The relationship between jazz and classical music
Classical music is the music of the establishment; the music that everyone feels they have to say they like...even if they don't like much of it; the music that is repected and regarded as the epitome of high culture; the music that is used for music exams - the music to aspire towards.
A lot of jazz players start off playing/learning classical music and then become interested in jazz and feel guilty about for ever afterwards. The point I wish to make is that there is classical music and there is jazz - they are entirely different entities and neither of them is inferior or superior to the other.
The problem that I see which has arisen is that too often, jazz is regarded as being governed by the same set of rules as classical music. So many teachers, critics and players regard jazz as an off-shoot of classical music. It is not. In some respects, learning classical music theory can be helpful to someone interested in jazz, but be aware that it can also be detrimental because the prohibition on certain things can create inhibitions which go against creative thinking. It can take years to free the mind of such inhibitions and a conscious effort is needed to challenge all exising assumptions.
Let's compare notes. In rhythm, there is a huge difference. Classical music does not swing. It is simply not meant to. It can have a beat, but that's not the same. Even in playing straight 8ths, there is a big difference. For jazz, the influence of bossa novas and other Latin music comes into play. Straight 8ths are closely tied up with syncopation which gives it a floating (when legato) or puntuated (when staccato) characteristic, not found in classical music, at least not until the early 20th century.
In the context of harmony, there is a huge gulf. When I went to music college, the harmony teacher (a classical composer) refused to acknowledge the existence of a minor seventh. Last week, I was told by a fellow musician that he had had an argument on Facebook with a classical musician who didn't think the half-diminished chord (m7-5) was a valid chord. But we know that the minor seventh and half-diminished chords are integral to the jazz vocabulary.
Part of the problem in learning classical music theory is that it finishes at the start of the 20th century when more interesting things began to happen. In looking through the sylabuses of theory papers for music exams a short time ago I was struck by this point. We have our own music harmony ideas in jazz and attempts to subjugate them to outmoded classical music notions of what can't be done are foolish. We should be proud of our harmonic structures and not feel guilty if we break the rules of classical music in finding new sounds. This applies also to the way chords are written. I believe that the best way of writing notes in a chord is the way that is easiest for them to be played, whatever the rules dictate. If that means a lot of flats in a piece that is in a sharp key, so be it. That also means ruling out double sharps and double flats.
In melody, the line between the two kinds of music is not so clear cut. The reason for this is that there are certain things which govern all kinds of music. Like cat pathways which all cats can use without infringing on others' territory, these rules are not the preserve of any one kind of music. It boils down to this: whatever sounds right, is right. Obviously there is a difference between bebop lines and the tunes used in symphonies. But bebop lines are only part of the jazz spectrum.
Even in the tone produced by an instrument, there is a difference. Classical trumpet playing, to me, is much more clinical and cold than jazz playing. But to be honest the function of the trumpet in classical music is very different from the trumpet in jazz. I always feel that brass instruments in jazz produce a much warmer, human sound and the very same chords played in a classical brass ensemble and by the brass section of a big band are totally different in sound.
In classical music, the musicians are playing what they see, in jazz it's what they hear. This is a bit simplistic - jazz musicians also have to play what is written but they do get the opportunity to improvise too.
The question of hierachy also comes into force. The top of the triangle in classical music is the composer, below him comes the conductor, and below him come the section leaders with the rank and file player at the bottom. Unfortunately, in some big bands there is also a hierachy (thanks to the influence of classical music no doubt). What I believe we should aim towards is much more freedom for individual players and much less hierachy and less strict obedience to the parts. There are some big band pieces in which the rhythm section players have to play strictly what is written. Sometimes this is necessary. But not for every single number. The beauty of jazz is not only in the freedom of expression given to soloists, but the interplay between the rhythm section and the rest of the band. This can only take place if they are trusted to be creative. There are also opportunites for this to extend to other sections of the band.
To summarise then, a lot of jazz arrangements are written as if they are pseudo-classical music pieces. But improvisation lies at the heart of jazz and to get rid of this vital element is to destroy all pretences to be called jazz. Let's re-emphasise the importance of improvisation and let's stop jazz being judged by the dictates of classical music. It's time we stopped feeling inferior and take pride in our own chosen music.
13th August
I've spent a lot of the last two weeks watching the Olymics on the BBC website. I didn't think it would interest me, but have found that I've been glued to it, even events which I know nothing about. What a fantastic Olymics! Things that had me on the edge of my seat were Jessica Ennis's Heptathlon win, the men's triathon, the track races by Bolt, Rudisha, Moh Farah and the Jamaican 4 by 4 relay. The Russian Federation's winning entry in the syncronised swimming and the rhythmic gymnastics were incredible. What a feast for the eyes! Nice to see the Spanish women's team for the rhythmic gymnastics dancing to Chick Corea's Spain. Congratulations to China for winning so many medals. Just a pity that the Olympics and Paralympics had to close with a pop concerts. The problem is that so many British people, particularly those who grew up at the time of the Beatles and the Rolling Stones and sadly including people who organise events and are in positions of authority and influence, still have adolescent musical tastes. These people seem to believe that Britain leads the world in pop music and they do not want to be seen as not being trendy. For those of us in the jazz field, this means that all other kinds of music are ignored. A columnist on the Guardian newspapers said that the Olympic closing ceremony featured the "cream of British music". Sometimes I despair of this country.
5th July 2012 - Holiday to Estonia
Got back yesterday from a week's holiday in Tallinn, Estonia. Surrounded on all sides by long-legged slim blondes I thought for a moment I had gone to Heaven. To be fair, there were also some very attractive brunettes. Oh to be young again!
Tallinn is such a beautiful town. Old town is full of wonderfully restored Baroque buildings. Nearby is the newer part of town with some quite stunning architecture. The Estonian language is frightening to look at and to anyone else is virtually unintelligble. But fortunately nearly everyone speaks good English or Russian.
Since independence 21 years ago ("The Singing Revolution") they have made great strides and now the country is very much part of Western Europe with a strong democracy.
The weather was sunny and warm every day, whereas in England apparantly it rained. Food can be expensive in the Old Town but we found an excellent place, Karja Kelder billed as the oldest bar in Tallinn at Vaike-Karja 1 just off the Old Town Square near the Barons Hotel.
The thing that surprised me the most was that jazz seemed to be everywhere. In restaurants, the Kumu art museum, in hotel lounges, in shops, the background music was usually (modern) jazz. As it happened there was also a 3-day jazz festival in the old town square. Jazz is well respected here. What a change from Britain where even the word Jazz is frowned upon. What accounts for the difference? No idea, but I have a suspicion it could partly be the mass media, and people are more sophisticated than at home. Long live Tallinn. Love live Estonia. A truly civilised country! Go there!
---
18th May 2012 - The Value of Art
Think of human beings for a moment. They are far from perfect. Even those people in good condition in their prime of life may have dyed their hair and put on a lot of make-up to conceal blemishes. Older people hide parts of their bodies which do not come up to par - cellulite, varicose veins, unsightly blotches. They may wear glasses, hearing aids, walk with a stick or a zimmer or have other physical disabilities. They may be balding or be overweight or too thin. Add to this mental disorders and human failings. And you see that no-one is perfect.
And yet in spite of that, artists of all kinds can create works of art which are perfect in themselves. A painter, sculpture or composer can create something which transcends human weaknesses and failures. For most art forms, this is not a spontaneous thing. A composer or author can spend months or years writing something, interspersed with periods of revision and editing and time spent completely away from the immediate project. Even in a single day, they take time out to have meals, or to go shopping, meet people, do necessary chores. Even so, the work they have created is a miraculous creation.
Even more miraculous then is what a person who can create a work of art on the spot, such as a jazz musician. There is no possibility of editing it. What comes out is the finished result. Yet it can be an amazing thing, something approaching perfection. Society will never value improvisation highly - it is regarded as somewhat suspect and inferior to works crafted over a period of time. It should be the other way around. Whatever way you look at it, it is nevertheless a miracle that human beings with all of their failings can create something which is perfect. No-one else can do that. This is the true value of art.
---
Writing music can be so exhausting!
CAT-NAPPED
In the evening when I sit in an easy chair
I feel the gentle pressure of some furry paws on my lap
And as I start to stroke her
Loud purrs of pleasure fill the air.
She doesn't settle down straight away but climbs up on my chest
So she can rub her cheek against mine
And muzzle my ear
With her claws alternatively being fully extended and then pulled back
As if to reinforce the rhythm of her purrs.


In the afternoon when I sit down at the piano to do some practice
She decides to play too.
And after parading up and down on the keys
She lets me know that cuddling her is much more important.
She doesn't settle down straight away...


In the morning when I try to write some music
She somehow manages to jump up on my lap
And indicate to me that her purring is more musical
Than anything I could ever put down on paper.
She doesn't settle down...


At meal times, the table suddenly wobbles
As she jumps up on to it.
"Get down" we tell her
Which means on to my lap to her
She doesn't...


When I am lying in bed, or standing at the sink, or sitting at the computer
Or getting in the car
Or rushing up the street to catch a bus
Or...or...or.........
Darn it! I can't do a blessed thing without being cat-ivated!


But I wouldn't be without it for the world.
16th November
About a week ago, I learned that Frank Taylor, a guitar player and good friend whom I've worked with on different occasions in the Brighton area had died. Ten or possibly fifteen years ago I made some recordings with him (in the dining room of my house) and Frank was more than happy with the results. I then forgot about the cassette I'd made until the other day. So I have put six of the tunes on youtube. This Alice in Wonderland... From here you will find links to the others as the visual format is identical except for different colours.
30th September
All musicians find some excuse for not playing as well as they wish to. So next time you're thinking up an excuse, think of this Korean girl who plays piano with only 2 fingers on each hand.
This video is an inspiration for everyone.

19th September
Put some new videos on youtube. Look for Fingerman's channel. The titles are Savannah Sunrise,   2'n'2 is Tutu,   Forest Walk,   Celebration Day,   The First Rains,   Arusha and In the moonlight. You can click on any of these titles to see them. All but the last one were originally on a CD I made to raise funds for the draught that affected parts of Africa about 10 years ago.
This one is called Something over herd and shows some things that can be done with a cowbell.
I have turned off the comments section as it really annoys me to read some of the foul-mouthed and racist comments that some people write, often not even about the video itself.
23rd August
I've been not too well since getting back from India. Started with a fever which I put down to malaria, a swollen lump in my neck which I assumed was cancer, a headache which I knew was meningitis, and aching limbs which must be Asian flu. Actually, it's probably a cold virus I picked up on the plane - long haul flights with recycled air can harbour all kinds of germs I'm told and my body doesn't have the antibodies to ward off viruses from the tropics. Feeling better now though.
My impressions of Kolkata - very colourful, vibrant and full of life and a spirit of entrepreneurship. It was not the poverty which surprised me (although the conditions under which the slum dwellers and pavement dwellers live is appalling - see this document). No, it was the close juxtaposition between the poor and the middle-class, not in segragated areas which I would have expected. In amongst a very poor area was a hotel with rooms at £90 a night (not the one I was staying in, I hasten to say.) Apart from the poverty, there are also affluent, highly-skilled people and great technological expertise within a thriving cultural background.
On the streets: buses, lorries (trucks), cars, taxis, bicycles, bicycles hauling heavy goods, motorbikes, auto-rickshaws, bicycle rickshaws and hand-pulled rickshaws competed with pedestrians, dogs and the occasional cow. Absolute mayhem.
A scarey thing happened on the way back to the airport. About 15 minutes from the time we were due to check in (an hour before the flight left) the car ran into a road that was flooded in 2-3 foot of water. Even so, cars were overtaking us causing large waves. Of course we didn't know how much deeper it was going to get, only that we had to put out feet up as the leg room was flooded. Then the car stalled and stopped. Some men immediately appeared and for money pushed us out of the flooded bit of road. They (and me too) then pushed the car back and forwards to get it to start. Finally it started and with smoke pouring out of the engine we set off at high speed to the airport. In Britain there are signs saying "Try your brakes" after going through floods. Our driver did not believe in that and charged up to buses and other heavy traffic braking at the very last moment. Fortunately, the car did not skid and stopped immediately. Amazing! We made it to the airport in time, but needed a long sit down (which we had.) I guess Ganesha worked overtime that day.
Something I noticed - well, I would. Nearly all the women wore beautiful saris everywhere. Even women mending the roads wear saris. It makes the clothes people wear in England look very dreary.
Surprised to find how important to people their religion is - a part of their daily life, even the taxis all carry a small icon of the god, Ganesha below the windscreen. In England we live in a secular society, except that some people go to church on Sundays.
I didn't hear much classical Indian music which I very much like. Most of the music on the TV comes from the Bollywood films. However I did enjoy a lot of it and the dancing that went with it was superb. We kept remarking how fit all the dancers were. Strange that the women's voices seem pitched much higher than English and American voices - is this cultural or physiological? I am used to accompanying female vocalists whose top range is about B above middle C. Is this a result of feminism, I wonder, where old fashioned femininity is shunned in place of a more macho assertive style, just as Margaret Thatcher lowered her voice to give it more authority.
And the wedding? What a wonderful experience! What a spectacle! So different from what we are used to. We saw so many ancient rituals which have deep meaning to everyone and we met so many charming people.
I'd like to recommend a fantastic book on Kolkata. City of Joy written by Dominique LaPierre, published by Full Circle.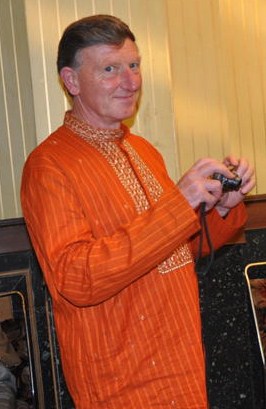 The Maharajah of Scored Changes
14th August
Got back from Kolkata (Calcutta) a few days ago. Spent 2 weeks there as we were invited to a Hindu wedding - unbelievable. A big hello to anyone from India who might be reading this. Back to work soon.
15th July
I have made up my mind on what to follow the Brighton Jazz Suite with. It will be TH'E SUSSEX JAZZ SUITE which will relate to the county of East Sussex, hence the apostrophe in the title. I've been doing a bit of research into things and have written some of the tunes, but no arrangements yet. That will have to wait until I am back from the Hindu Wedding that my wife and I have been invited to in Calcutta early next month. When things have progressed a bit more, I will start a new page in the Projects section.
Footnote (20th July) - now finished writing all the new tunes for the next suite. Itching to get started, or perhaps I'm just itching. Will start the new account of writing the tunes in the middle of August. Meanwhile, have a look at the videos from the Brighton and Watermill suites
1st July
Yesterday I had to play solo piano at a James Bond-themed cocktail party. Fortunately I found a book with 30 of the title tracks in it and I spent a lot of the past week trying to get them under the fingers. In the event, I don't know why I bothered. In the same room, just feet away, was a shooting booth with pictures of Casino Royale all over it. The guns were all electronic things and the bangs they produced were enhanced to make it sound like world war 3 had broken out. It's always the case: you practice hard for a gig and no-one hears you or bothers; you don't do much practice and you find yourself exposed in a very quiet place.
On the subject of James Bond and other such films, I much prefer the music written by film music writers. The tendency nowadays is to get a pop musician/group to write the music instead and to my mind it ends up being banal, run-of-the-mill pop music. If you need a tooth out you go to a dentist. If you want good theme music, go to the guys who know what they are doing, instead of pandering to the adolescent tastes of younger people, thinking it will increase film ticket sales.
14th June
My approach to writing big band arrangements has changed markedly since I started the 2 jazz suites (Watermill Jazz Suite and Brighton Jazz Suite). Having chosen a whole band-full of wonderful soloists I want to find ways to show them off. It is sometimes said that you need just a few good soloists with the other players being very reliable good-readers. This might be the case where there is a shortage of good soloists in the area, but not where I live.
In fact, I think that the limiting of solo space to just a handful of people is detrimental to the music as the other players never get a chance to develop their own musicality. Mind you, being given a solo to play does carry a responsibility. The soloist has got to get to grips with the chord sequence and play a solo that the chart demands. Nothing makes an arrangement go flat more than an insipid solo. If the band has been roaring away for some time, a duff solo can immediately kill it all stone dead. I've heard this in other bands where the players have been chosen because they are good readers. They need to devote as much time as they spent on learning to read towards learning how to solo. But I digress...
A lot of arrangements that are around are showcases for a band. This can be great, but it can also be pretentious - hard stuff that no-one can play well. In writing arrangements now, I have reversed the roles. Each chart is now a showcase for the soloist or soloists that are featured. My function has become one of finding a suitable framework for the soloists.
This involves a number of different aspects. It means that the solo sequence has to be chosen for its potential to generate good solos. Where there are too many chords, some of them can be weeded out or simplified. It means that backing for the soloists must help to build intensity without overpowering the solists themselves. And it means that however much an arranger prides himself on writing good ensemble passages, nothing can match a superb soloist. In other words the arranger has to keep his ego in control.
Jazz is intrinsically linked with improvisation. But some arrangers have turned big bands into a form of classical music by getting rid of the improvisational element. I believe this trend has to be reversed.
2nd June Website stats for May 2011
41,397 hits from 80 countries. 1,866 downloads of music. 4,254 downloads of tutorials.
29th May - In praise of musician's wives/partners/husbands
It takes someone very special to live with a musician. They have to put with the musician being out in the evenings, and sometimes being away from home for weeks or months on end. They have to put up with us being temperamental or depressed when things haven't gone well. They have to face the fact that a musician's greatest love is for music which surpasses everthing else. They have to provide meals at odd times and often have to feed other musicians too if they are around. They have to put up with someone practicing for hours at a time and sometimes having rehearsals at home. They have to put up with their zany sense of humour, their irresponsible behaviour at times, and their procastination in doing things around the house. And they have to balance it all with their own lives and the lives of the rest of their family. On behalf of us musicians, can I say a big thank you to you.
14th May
I have been busy putting up videos of my big band on Youtube. You can find links to them on the Watermill Jazz Suite and Brighton Jazz Suite pages. Or go to Youtube and look for videos by Paul Busby. I decided to make them public as I am not sure whether any of them will ever be recorded in a studio. These are live sessions after just a few rehearsals and the music has not been doctored up, so please excuse the blemishes.
January 6th - some New Year thoughts about arranging/composition
The influence of classical music is very strong. Jazz theory books and books on arranging and composition are full of it. The performance of pieces is also measured in terms of classical music.
But hold on. Jazz is jazz and does not have to be regarded as a form of classical music with the addition of some improvisation. Surely jazz can stand on its own two feet. For instance, true to classical music ideology, you should use very little new material in writing an arrangement. True, this does give the arrangement a sense of unity and homogeneity. But the arranger should also be permitted to improvise and see where it leads. In performance, the emphasis is always on tightness and precision. But this can be at the expense of spirit and excitement. I would rather hear a band play slightly inaccurately at times but be spirited, rather than yet another neat, precise rendition of what the arranger has written. The arranger might be the king, but is that right? Surely the players are just as important.
The essential ingredient that jazz has is improvisation. Yet in so many arrangement, it is regarded as an add-on, rather than being the main focus which is what I try to make it. Improvisation is a fantastic resource and should be embraced as such. It can be used not just for individual solos (usually limited to a few chairs in the band.) To produce an effect, classical composers can use thousands of notes. In jazz, you can get the same general effect through improvisation (communal improvisation). All it needs is the use of dynamics, instructions on what you are trying to achieve and maybe a set scale or motif to base it on. Yet how many books on arranging and composition deal with integrating improvisation, apart from writing background pads? Very few, if any.
Jazz that features a lot of improvisation as the main focus is alive and vivacious. Hear some old time jazz or sessions where there are no written parts and you also find this liveliness. Compare that to something which is controlled, controlled by the written parts. There are ways of combining the two approaches which is what I am currently trying to do.
When a classical composer writes a piece he knows precisely how it should sound and one orchestra playing it will hardly vary from another one. But when a jazz composer writes a piece, he/she has in mind from the start the sounds of the individual players, their own stylistic preferences and their strengths and weaknesses. If this is taken into account together with improvisation, it seems inappropriate that we should still be reading from the same hymn sheet as classical music. A new approach is needed in which jazz can evolve for its own sake.
November 27th
I just wanted to say how much I am enjoying my latest project, writing tunes about Brighton (see second and third projects page). It is absolutely fascinating researching various facts about a certain town, particularly the history as everywhere has its own unique history, its own store of legends and myths and its own cultural background.
Putting them into music is great fun. I always wanted to write music for films, but the only time I did this was to write music for a golf promotional film in the Bahamas when I lived there, nearly 40 years ago. I've always like mixing art forms and representing visual things (films/photos/pictures) in music appeals to me.
Having a topic helps to give you ideas. For instance, I've just finished an arrangement about the buses in Brighton. So what does that suggest? Traffic jams, horns honking, stop-starts, and trying to negotiate obstacles along the way. What this approach to writing also does is to help you communicate with the audience.
A band usually plays tunes with no connection to where the band is playing or with the audience from there. A tune about Alabama, for instance, will appeal to certain people in the US but to people elsewhere the title is meaningless (no slight intended for people who live in Alabama). But a tune that everyone in a locality can identify with can get the audience on your side. It also means you can be as graphic and outrageous in your writing and it will be accepted as it fires people's imagination. This has worked for me on 2 occasions and I feel it will continue to do so. At the last concert, the audience was hanging on to everything I said in the announcements and then listening intently to the music. Everyone - the audience and the musicians - went away happy.
So if there are any composers or arrangers reading this, give it a try. And if there are any bandleaders out there, why not commission someone to write something original. The public will take a lot more interest in your band if you do and people who don't even like jazz will suddenly find that, well, perhaps it;s not what they thought.
November 23rd - The solo pianist
In ranking of kudos (hipness), the solo pianist probably lies at the bottom. I have played solo piano in a 5-star hotel for 20 years or so, and it is the most soul-destroying job any musicians could hope for. Don't think for a moment that I play cocktail piano - i hate that style - far too many notes and meaningless runs and arpeggios. What I play is standards, some jazz tunes, some Latin tunes, folk songs and some pop songs, particularly by Bacharach, the Carpenters, and the Beatles (in retrospect they wrote some good tunes.)
I've got piles of music on the piano - much to the annoyance of the hotel manager, but can play hundreds of tunes by ear. Not so easy with pop songs though. I look around the room and if I'm not too distracted by things which a man gets distracted by, I take note of the age group and play accordingly. If it's young or youngish people I stick mainly to pop tunes and I can spend the whole 4 hours playing them if necessary. (Too bad if they want older tunes - that's unusual.) For more elderly people, I play standards. I have noticed that nowadays even people in their 60s often want just pop music. But I feel I have a duty to play some good quality standards too to educate them. If it's a mixed age clientel, I mix pops with standards.
So I play for an hour and three quarters (the first set) without stopping, carefully going from one style to another, from one style to another and from one tempo or time signature to another to try and build up an ambience and produce enough noise so they can discreetly belch or pass wind without everyone noticing. I also play requests, knowing that I will not be thanked for doing so (see footnote).
The reaction of people to seeing a real pianist is strange. Sometimes they seem embarrased to see a live musician: sometimes they pretend not to see me at all and stare through me or avert their gazes; sometimes they complain that I'm too loud or not loud enough. (Another former pianist in the hotel was sacked on the spot after 14 years playing there because someone said he was playing too loud.) Sometimes, but very rarely, they may say good evening to me, and sometimes on extreme occasions, they may actually comment on my playing. But the waiters and waitresses, and all other staff are thanked no end for doing what they do. Good for them, they shoud be thanked. But am I not too contributing to the occasion?
I'm glad to have this job which provides a steady income for me. But like other solo pianists I can get pretty fed up with it at times. The general public are a funny lot. It's convinced me of one thing: The British do not like live music or at least they are embarrassed by it.
Footnote to the point about requests. I was once asked to play La Mer so I immediately launched into the Charles Trénet song. Up came the man after I had played it. "I mean the Debussy piece - La Mer", he said. For those of you who don't know, La Mer is also the name of a 23-minute orchestral impressionistic piece by Debussy. Apparantly, the composer stayed at the hotel when he was writing this together with his mistress, while his wife was giving birth in France. I wonder if mis-spelt the title and meant La Mére! Needless to say, I had to apologise for not being able to play it!!
November 9th - The X-Factor-isation of Britain
Millions of people in this country are addicts of the X-Factor. This is a talent show (mostly singers) who are judged by a panel in a competition to find a winner.
I would like to say a few things about it. I have myself accompanied acts in talent shows and am cynical about them. The winners of each heat are not usually the most talented, but the ones which appeal most to the judges. Most performers are... how can I say it politely...crap! The acts are so full of their own egos that they blame the band for not getting anywhere, and those that do, don't acknowledge the help given by the band. I stopped doing the talent show when they let the performers use pre-recorded backing tapes which I don't think should be allowed.
My points of contention are that ranking musicians or singers in terms of how good/bad they supposedly are is against my philosophy. Everyone has something unique and comparing people to other people is not right. Can we say that Miles Davis is a better musician than Louis Armstrong, or Ella Fitzgerald is better than Billie Holliday? Or that Bach is better than Beethoven? Of course not.
That brings me to the issue of having judges. What an impertinence this is! How can they set themselves up to judge how good someone else is? What qualifications have they got to do so? They are all talentless individuals who make money through managing and manipulating the music business, which is the worst example of raw capitalism anyway.
Then there is the issue of instant fame. As we musicians know, you have to practice hard for many years, and get a lot of experience to play well. Yet these contestants seem to think that they don't have to do this - no hard work is required at all. And yet some of them are rewarded by recording contracts and have money thrown at them.
My other grouse is that I understand that most of the songs are covers of existing recordings, with the singers copying the original singers. What a waste of time! Meanwhile genuine talent is ignored. So much for Britain being a musical nation - pull the other leg.
May 6th Lots of different Freebies now in the small band section.
April 5th - Web Statistics
Some statistics for March 2010.
Total number of hits: 29.974, representing 69 countries. 1723 downloads of music. 2717 tutorial files downloaded.
April 3rd - Spring
Up the lane, the daffodils are fully out now and there are some clumps of primroses. The birds are busy flitting over the hedges and singing their hearts out and there are buds and new leaves on all the plants. It's still quite cold, but you can feel that Spring is in the air.
There is a common belief that jazz is an urban thing. It's hard to think of Charlie Parker pruning his roses or John Coltrane collecting eggs from his free-range hens. But many jazz men do live in the countryside or at least not in the heart of the city. The dynamic stimulus provided by city life is thought by many people to be necessary for innovation in jazz. Personally, I think this is a load of crap. Jazz can reflect life in any environment. It can thrive in the city or the countryside.
Similarly, although a lot of great jazz players are American, there are also some great jazz players in other countries too. And yet so many people here in Britain ignore British players simply because they are British. This also happens in other countries I am told.
One other thing. Although many great jazz players have been black Americans, white/hispanic and other races have also been very influential. Today, jazz is played all over the world and that is what is great about it. Men and women and people of all ages can play jazz so don't let anything put you off. Support local players, incorporate elements of your own culture within your music and just go for it.
September 17th
I have been commissioned to write a big band suite for the Watermill Jazz Club in Dorking, which I'm very excited about. I've written all the tunes and am now copying out the 3rd of the arrangements - that's the tedious bit, doing it on computer.
At long last, it is nearly time for our holiday. We always go late in the year when the weather is warm but not overbearing as we like to do a lot of walking.   This year we are off to Prancj near Kotor in Montenegro - a beautiful area, so I believe. Hope to hear some local music. Anyone know where I can find it, or anywhere else that might be interesting?
August 23rd - Influences
As a young boy, I thought that Beethoven was the greatest composer of all time and didn't listen to much else.  Gradually, I began to accept other classical composers of the Romantic period - Mendelssohn, Grieg, Tchaikovsky.   To this day, I still have a soft spot for these composers, particularly Beethoven, whereas I just can't identify with Mozart, Hadyn or Bach.   Beethoven still appeals to me because he was one of the great ground-breakers, never satisfied in sitting on his laurels and just like Miles, he transformed the music.   He also took risks musically and had no luck with women.   Thank goodness, perhaps, as marital llfe might have deprived us of a lot of his music.
In my teenage years I discovered Ravel and Debussy, amongst others, which maybe paved the way for my acceptance of modern harmonies found in jazz.   About this time, I heard some jazz (Glenn Miller and some traditional jazz bands (Kenny Ball and the like) and then Erroll Garner and Oscar Peterson.  This started my passion for jazz.
At about this time (the 1960s) the Beatles and other rock bands were becoming popular.  But I hated it all, and stuck to jazz and classical music.  In hindsight, I can now see that pop tunes in those days were really good.  Not the way they were performed, but the actual melodies and harmonies...compared to the stuff that is mass-produced these days.   But in 50 years time, I might change my mind!
The next landmark was hearing Bill Evans, Miles Davis and Gil Evans.  These influences will stick with me for ever.   On growing older, I have discovered Stravinsky, Rachmaninov, Bartok, Berlio, Ligeti, Walton, Charles Ives (an underrated composer if there ever was one).  I've also grown very fond of folk music - African, Asian, East European and of course, Latin American music.   Other kinds of music also appeal to me to a lesser extent - some rock music, country and western, film music, and so on.
I say all this to make a few points:
1. People are turned on to jazz often by accident - hearing jazz coming out of a house while they are walking down the street, or hearing it on the radio (although the chances of this happening are remote nowadays).   If they allow themselves, their taste changes over the years.   To many people, hearing free jazz as the first jazz they encounter, can be a turn-off, whereas to others it can become an instant hit or an aquired taste.   On the other hand, hearing something gentle, like the MJQ, could be a turn-off to a Heavy Metal fan.
2. Jazz tends to be incestuous - jazz lovers often turn their backs on all other kinds of music.   However, influences from other music can be a great source of inspiration and can be accomodated within jazz.
3. Jazz players can be great listeners, which is good in itself.  But listening to other players too much can stiffle your own creativity.  I think you also have to develop your own thing.   So listen to yourself, explore things, be confident in your own evolving creativity instead of continuously imitating other players.
April 27th - Listen with Mother
Listen with Mother was a children's programme broadcast by the BBC between 1950 and 1982 (a time when people were more clean-minded than they are today).  This is a clip from it which sounds rather sadistic Click on that word. 
April 10th - Violinist in the Metro
This has been sent me by various people. It's not about jazz but could equally apply to it. You know the saying - even if Charlie Parker were to play in this venue, you still wouldn't get anyone to come.
A man sat at a metro station in Washington DC and started to play the violin. It was a cold January morning. He played six Bach pieces for about 45 minutes. During that time, since it was rush hour, it was calculated that thousands of people went through the station, most of them on their way to work.
Three minutes went by and a middle-aged man noticed there was a musician playing. He slowed his pace and stopped for a few seconds and then hurried up to meet his schedule.
A minute later, the violinist received his first dollar tip. A woman threw the money in the till and without stopping continued to walk.
A few minutes later, someone leaned against the wall to listen to him, but the man looked at his watch and started to walk again. Clearly he was late for work.
The one who paid the most attention was a 3-year old boy. His mother tagged him along, hurried but the kid stopped to look at the violinist. Finally the mother pushed hard and the child continued to walk turning his head all the time. This action was repeated by several other children. All the parents, without exception, forced them to move on.
In the 45 minutes the musician played, only 6 people stopped and stayed a while. About 20 gave him money but continued to walk their normal pace. he collected 32 dollars. When he finished playing and silence took over, no-one noticed it. No-one applauded, nor was there any recognition.
No-one knew this but the violinist was Joshua Bell, one of the best musicians in the world. He played one of the most intricate pieces ever written with a violin worth 3.5 million dollars.
Two days before his playing in the subway, Joshua Bell sold out at a theatre in Boston and the seats averaged 100 dollars.
This is a real story. Joshua Bell playing incognito in the metro station was organized by the Washington Post as part of a social experiment about perception, taste and priorities of people. The outlines were in a commonplace environment at an inappropriate hour. Do we perceive beauty? Do we stop to appreciate it? Do we recognize the talent in an unexpected context?
One of the possible conclusions from this experience could be:
If we do not have a moment to stop and listen to one of the best musicians in the world playing the best music ever written, how many other things are we missing?
April 10th - a few words on talent
When I was younger I played in various dance-halls with medium-sized bands (usually 4 horns, 4-strong rhythm section and a couple of vocalists).   As well as playing ballroom dances we had to play pops, which meant trying to sound exactly like the record.   Sometimes it worked, other times it didn't.   With the development of technology in recording studios, it simply became impossible to mimic the recording.   Gradually, the pops took over and the bands were reduced in size and then got rid of completely.
I used to think then what a waste of talent this is for such good musicians to have to play what was often pure garbage.
Nowadays, music has been taken over almost completely by the capitalist ethos - music is a commodity to earn money; nothing else matters.  What has replaced talent to a large extent is image - young, rich, slim, healthy and supposedly sexy people singing and playing pop music which is written to a formula which is guaranteed to sell the music and other merchandise linked to it.
I am not against pop music - the energy it produces is stimulating, some of the chord sequences are very interesting, some of the rhythms are fantastic, some tunes are really catchy and some of the sounds are intriguing.  But there is pop music and there is pop music.
What I am against is the way that the media concentrates all its efforts upon the formula stuff - the dross.   You hear it on TV and the radio, in shops and pubs and restaurants.   There is no escaping it.  Meanwhile, all other forms of music are ignored.  A monster has been created and it is destroying everything in its path.  This is the case particularly in Britain where everything has become standardised - the same shops in every town, the same films at all of the cinemas, the same tabloid newspapers owned by a handful of people.  People have been brainwahed to believe that all exists is what they are presented with and there are no alternatives.
All of you reading this already know this.   The problem is knowing what we can do about it.   If we continue to ignore it, the number of jazz gigs will dry up entirely - maybe not the big festivals with top names, but the smaller venues where local musicians can get to play.  And without these training grounds for players there will be fewer top players around.
March 16th - Eau Dear
Up to now, I have put odd comments in the update section of the News page. Now I will restrict that to just notify people of new material has been added to the site and use this page for other things.
So what's been going on? Well, as you will have noticed I've been writing a lot of piano music lately. Writing for piano is really hard and I've wanted to try and improve that aspect. It's also been useful in trying out different ideas, particularly relating to harmony, without being having to think of arranging them for other instruments. However, some of these pieces will be arranged for other ensembles in the future.
The last piano piece added to the site is "Eau de Toilette". The Gents toilets in the Grand Hotel in Eastbourne where I often work (I mean in the restaurant there, not the toilets) inspired this piece. The cistern above the urinals had such a musical sound I simply had to write this piece. Unfortunately it cannot be heard now because they have installed an extractor fan which drowns it out. The other nice thing about the toilets was that they used to have glass-fronted cases above the urinals so you could catch up with the news from different newspapers whilst being otherwise occupied. I think they removed them because certain men would turn towards the person next to them if anything interesting caught their eye and say "Here, look at this.". The remark was not always interpreted the way it was meant to be, and the cost of dry-cleaning someone else's trousers was too much. But I digress...
With piano pieces I always record the whole thing so that you can hear what I have in mind, which makes for rather long soundbites. It's also challenging for me to try and get them right, which I don't always do I must admit, but there are plenty of other people around who will be able to play them better, and they are useful exercises anyway for those who are less skilled.
Pianists often have timing problems and I would recommend using a metronome to help. We pianists are also so obsessed with chords that we sometimes find it difficult to think melodically. Being able to play a front-line instrument in addition to piano does the trick. I once played vibes (on gigs) and a bit of trombone (only once on a gig and that was so bad, the trumpet player immediately left the band. I gave up trombone because I kept waking up babies in the neighbourhood and became rather unpopular. If only silent mutes had been invented then I might have perservered.
As you get older I have found that your wrist tends to loose its flexibility. I was therefore very pleased to be given a power-ball for Christmas. It did take 3 days working at it until I managed to get it to work, but since then, I have found it excellent in exercising the wrist. Of course there are other ways of doing this, but you can play with your power ball in public without fear of being arrested. The web-site is http://www.powerballs.com or just google power balls. Have a look at the videos. There's a guy who's got one of these things in both hands. It's absolutely amazing what he can do with his balls! They are also useful for guitar players, drummers and vibes-players. All for now.
Contact me if you want to add any comments. I will reserve the right not to publish them if unsuitable.